Centimeter-Level Accurate GNSS Receiver with RTK Capability
The Arrow 200® GNSS receiver is a robust, reliable, and repeatable RTK receiver. With support for all global GNSS constellations (GPS, Galileo, GLONASS, and BeiDou) and SBAS and RTK differential correction sources, this is one of our most accurate and productive receivers on the market. The Arrow 200® balances performance and reliability with flexibility and affordability, making this one of the best-value GNSS receivers in the world.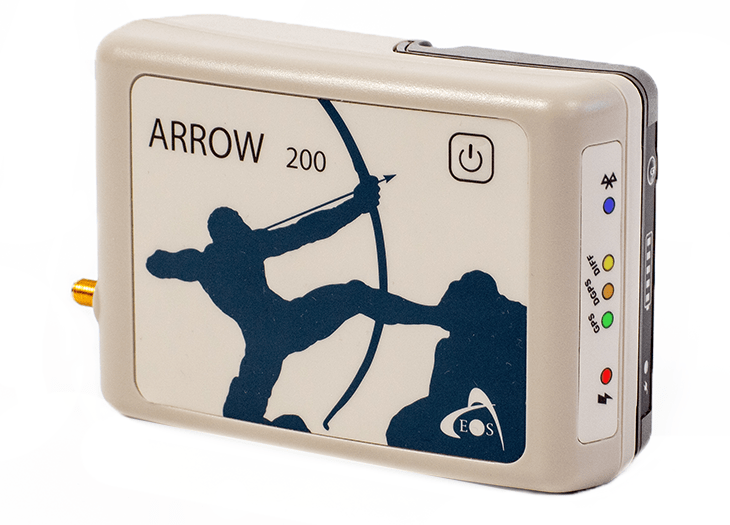 Accurate, Robust, Flexible
Survey-Grade GNSS Receiver
The Arrow 200® delivers 1 cm accuracy to any device when connected to an RTK network or base station. For areas where no RTK network or base station is available, it can provide 30-60 cm accuracy with SBAS.
Productive Positioning
The Arrow 200® is an extremely productive receiver, supporting all global GNSS constellations (GPS, GLONASS, Galileo, BeiDou), two frequencies (L1, L2) and 372 channels for unique and robust field productivity.
Full Flexibility
The Arrow 200® GNSS receiver is compatible with all consumer mobile devices (iOS®, Android, Windows) and any third-party data collection app, whether it be your current, future, or even proprietary mobile app.
What Do You Get with the Arrow 200® GNSS Receiver?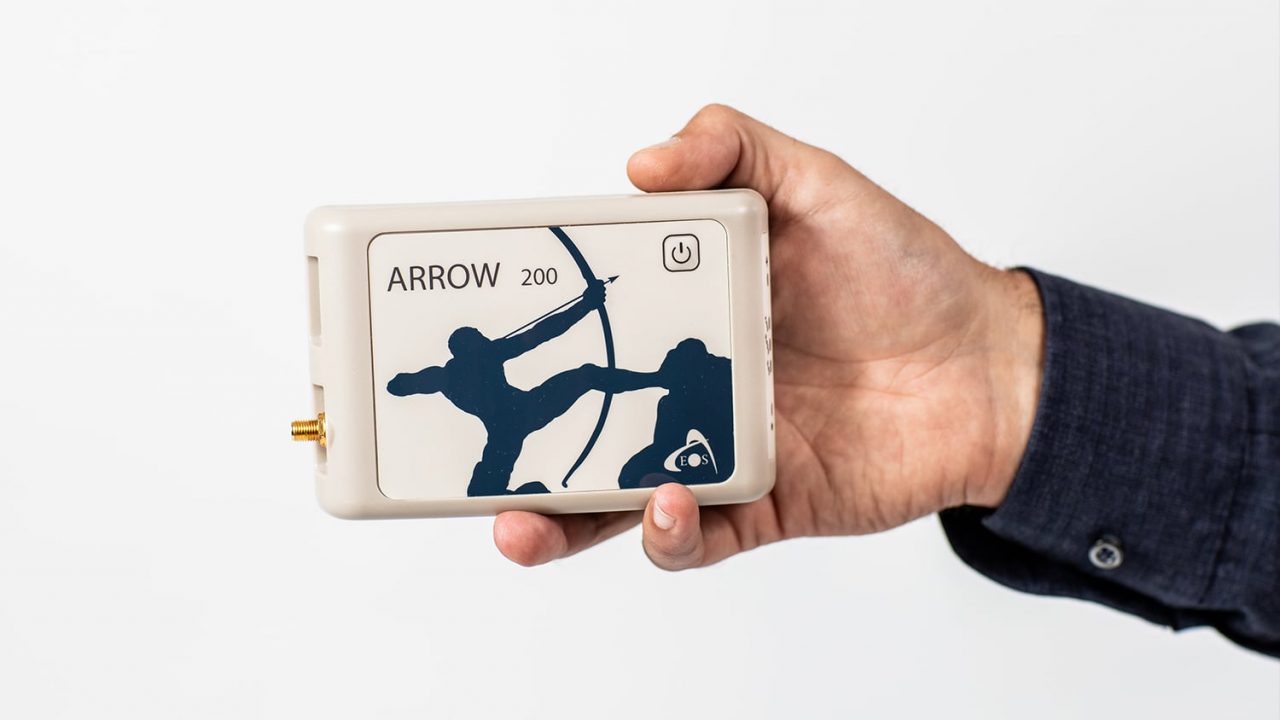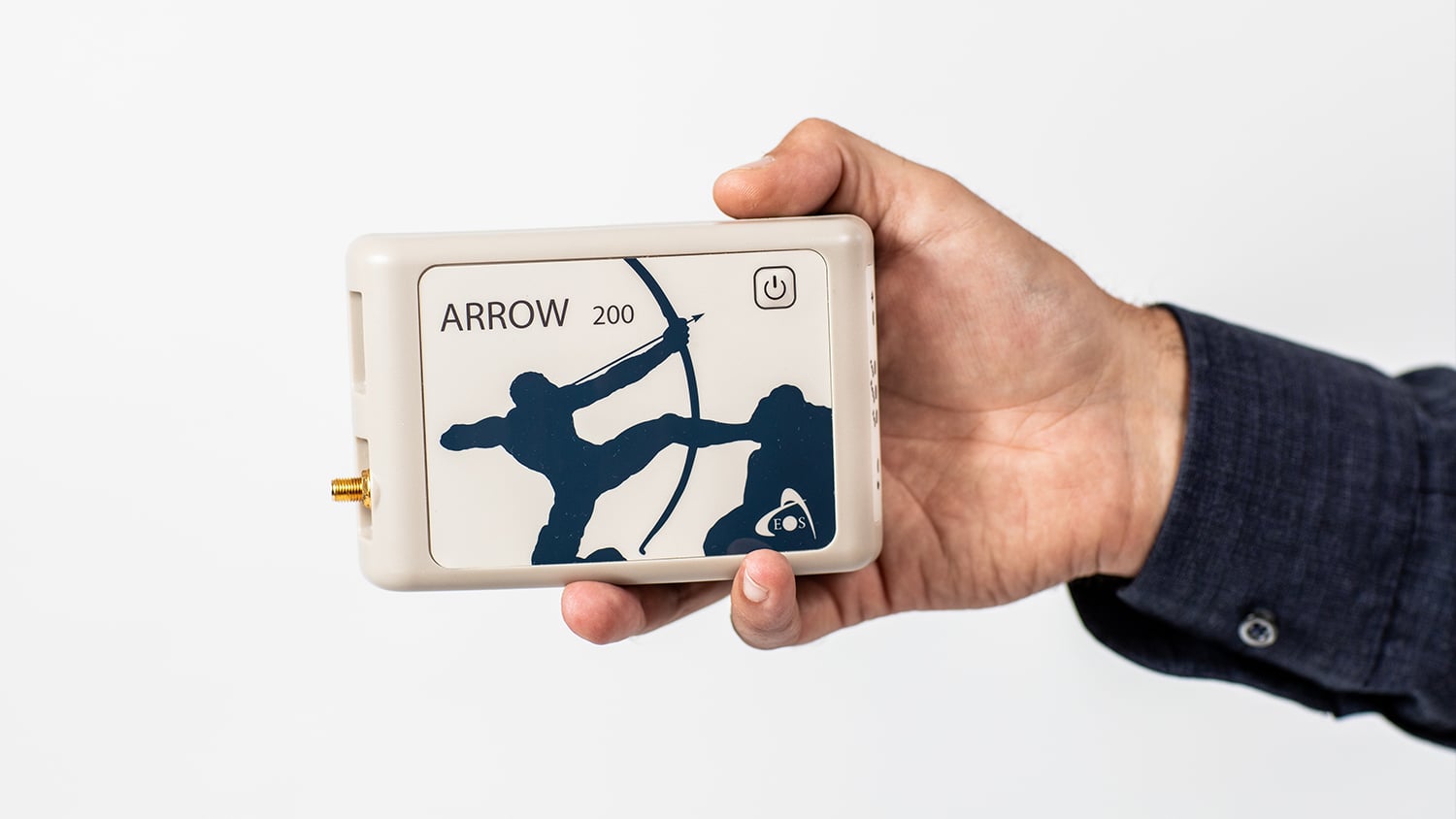 What's Included?
Open the box of this versatile Bluetooth® RTK GNSS receiver!

The Arrow 200® RTK GNSS receiver is a complete survey-grade positioning kit. Included with the standard kit are:
Arrow 200® GNSS receiver
Arrow 200® antenna: Multi-frequency GNSS surveying antenna
Antenna mounting plate
Antenna cable
Hard shell carrying case
Pole bracket and clamp
LI-Ion battery pack (field replaceable battery)
12VDC power supply
Access to

Eos Tools Pro
What Accuracy and Flexibility look like with the Arrow 200®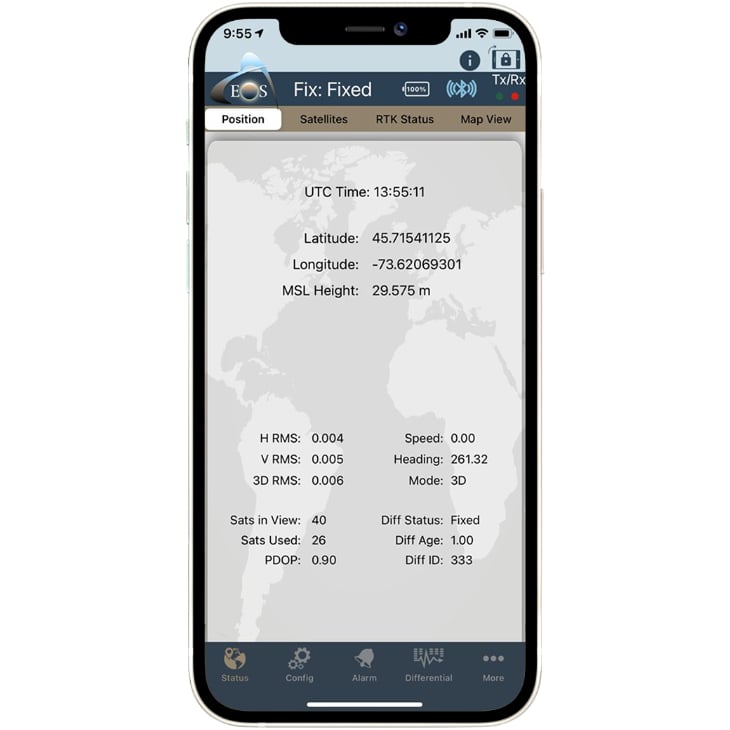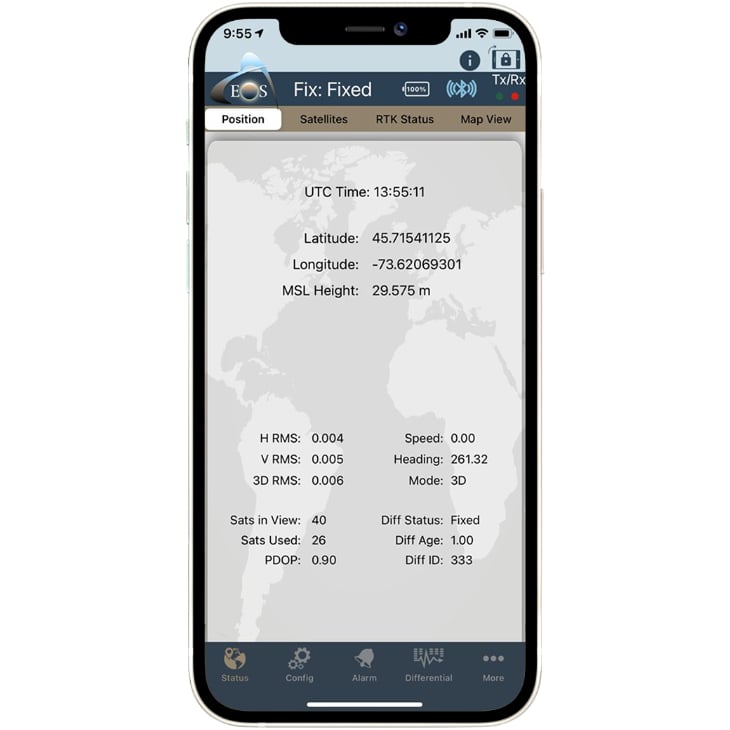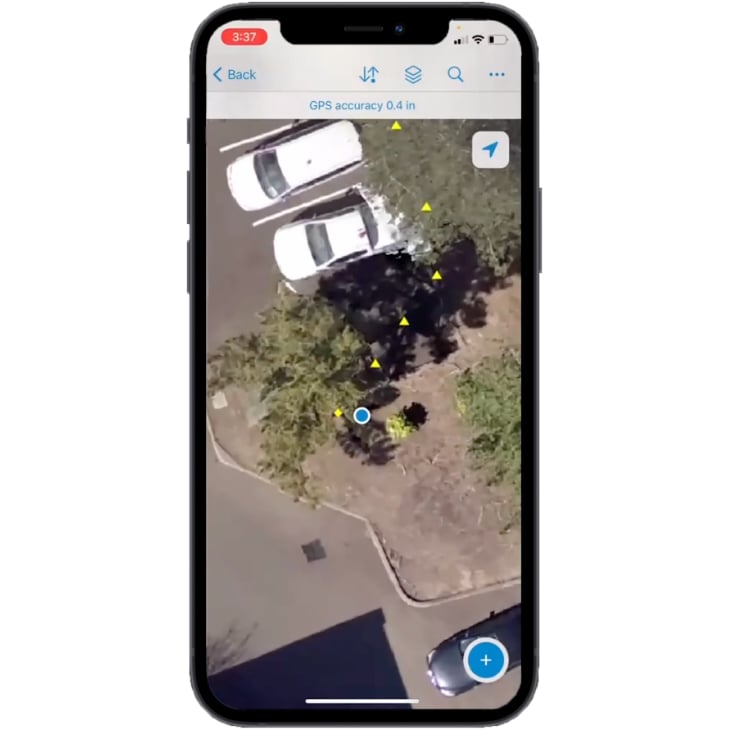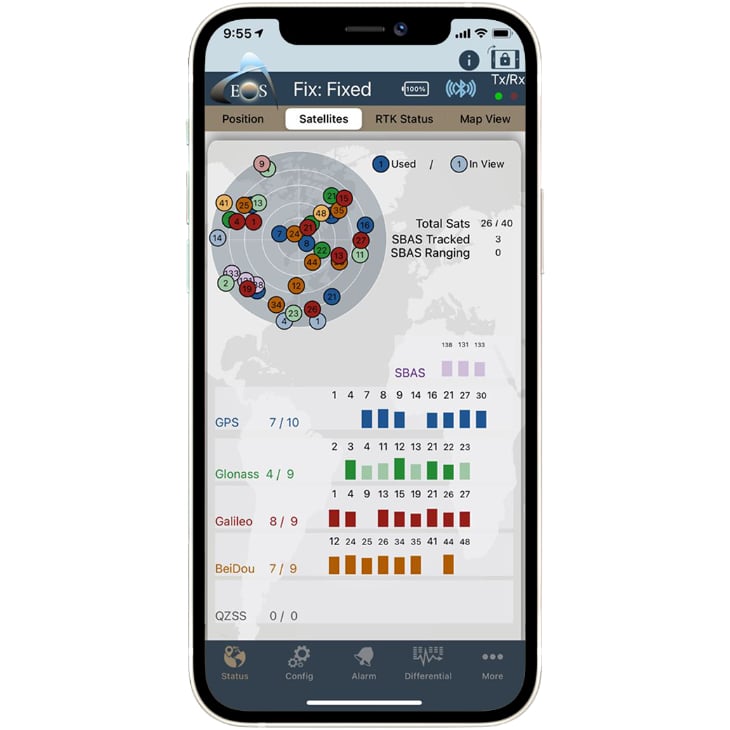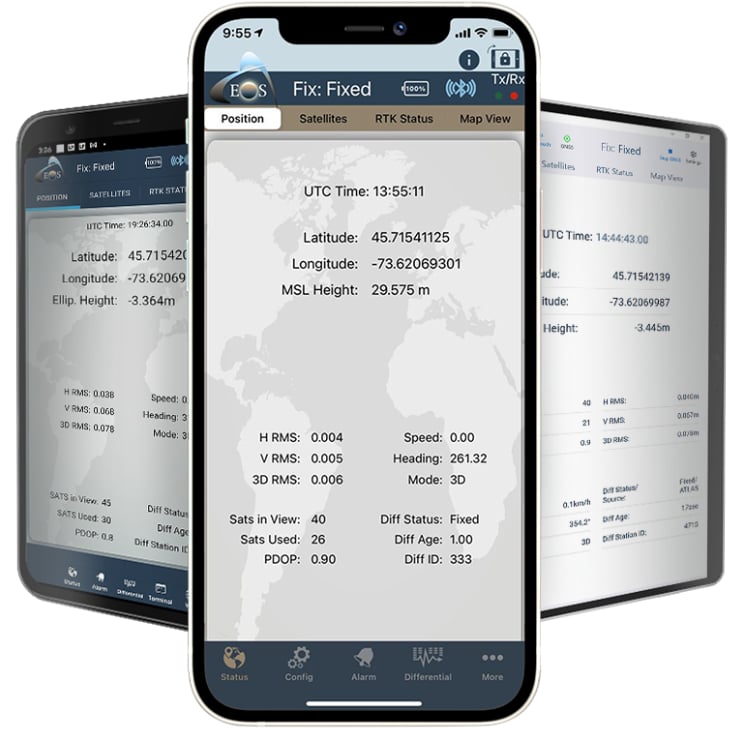 1 cm accuracy with RTK
Easily integrate with any mobile app
Access all GNSS constellations
Compatible with all mobile devices
Use with Many Differential Correction Source
RTK Network & Base Station
The Arrow 200® GNSS receiver provides 1-3 cm horizontal accuracy and 2-4 cm vertical accuracy with any RTK network or local base station, up to a 50 km (31 mi) radius.
SBAS
If no RTK, base station, or Atlas® service is being used, the Arrow 200® will work with regionally available free SBAS corrections when available. Using SBAS, this will provide ~30 cm horizontal accuracy (HRMS).
Try Arrow Gold® for Atlas®
When no RTK network, base station, or SBAS is available, yet survey-grade accuracy is required, consider the Arrow Gold®, which additionally supports Atlas® subscriptions for 4-30cm accuracy worldwide.
Explore the Arrow 200® in 3D
Bring the Arrow 200® to life on your screen. Click the play button to launch the Arrow 200® 3D model. Select any numbered button to access helpful tips about this survey-grade GNSS receiver.
Arrow 200® Technical Specifications
GNSS Receiver Specification Footnotes:
Depends on multipath environment, number of satellites in view, satellite geometry, baseline length (for local services) and ionospheric activities. Stated accuracies for baseline lengths of up to 50 km
Transmission in free space
Lithium-Ion battery performance degrades below -20°C (-4°F)
Featured Arrow 200® Case Studies
Environmental Solutions & Innovations switched to Ecobot app and Arrow GNSS to replace a slow and cumbersome legacy mobile mapping solution.
More Info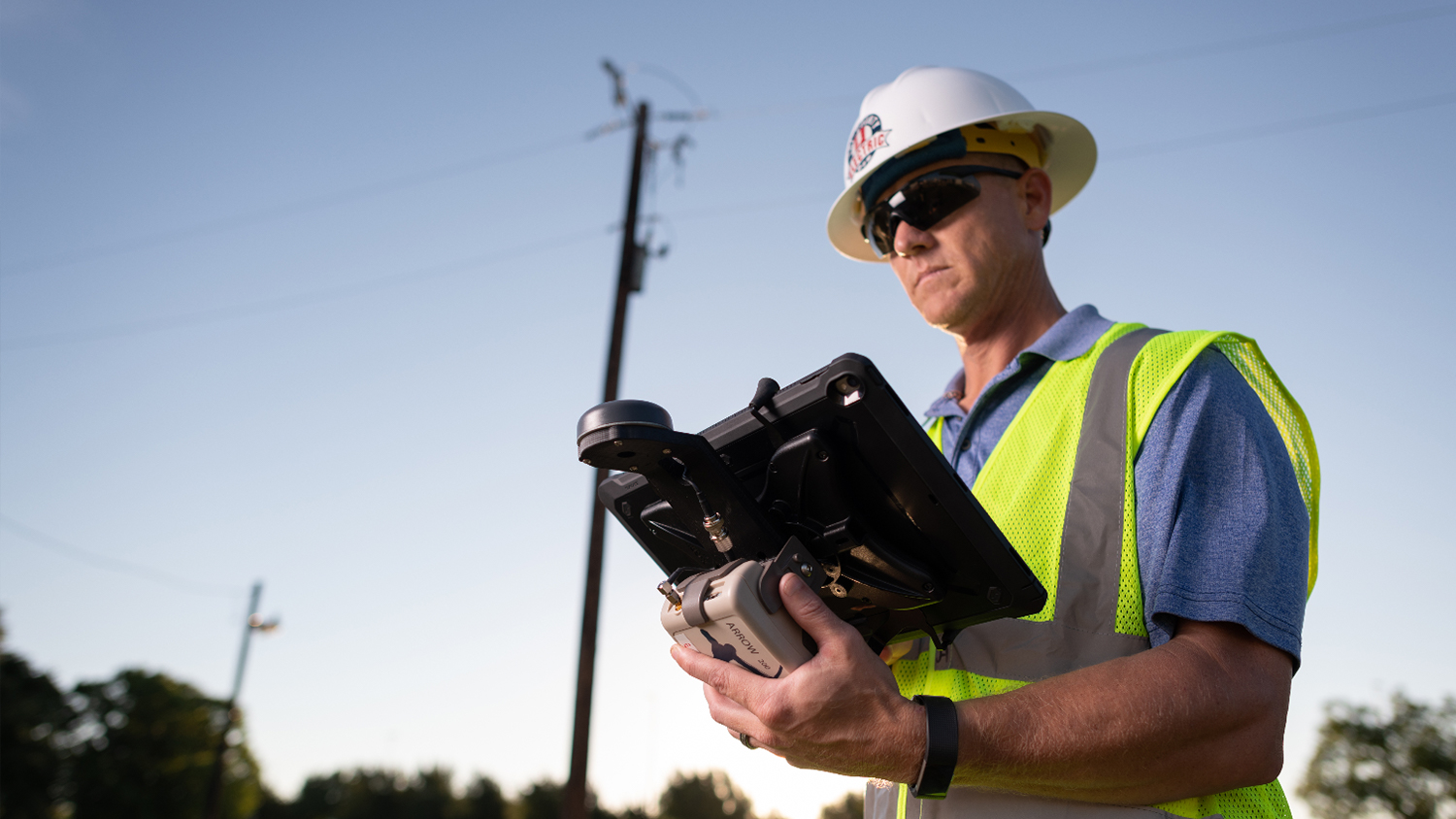 Real-time access to enterprise ArcGIS via Futura & FieldPro helped TCEC achieve 4-hour as-builting. They used Arrow Gold for field staking GNSS locations.
More Info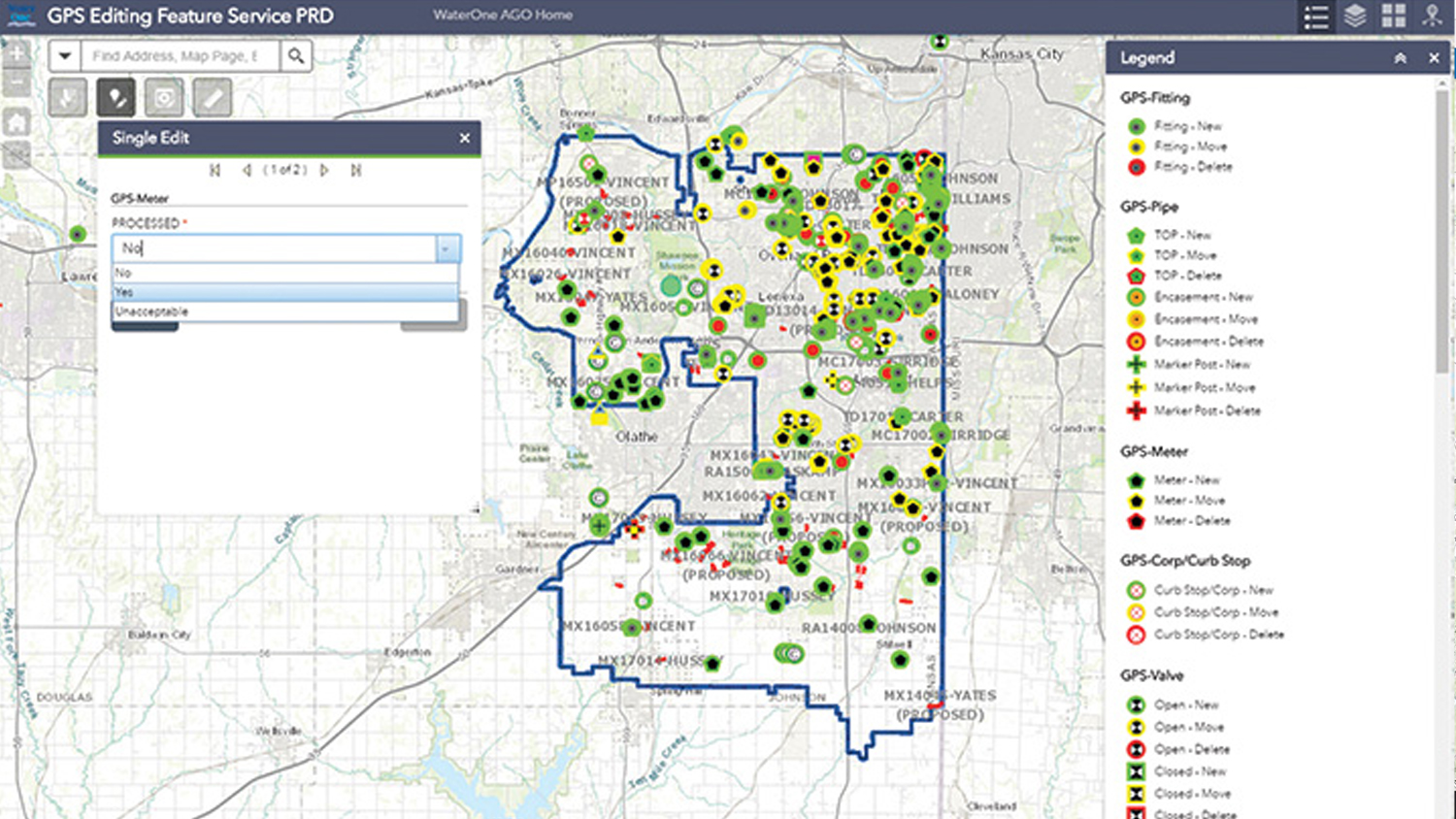 WaterOne in Kansas revamped its outdated field workflow by switching to Panasonic ToughPads and Arrow 200 for water-asset collection on Esri ArcPad.
More Info
What Customers Say about the Arrow 200®
Slide
"With the Arrow 200® we're getting our operations folks what they need in seven to ten days to have confidence in what we're doing in GIS."
Sr. GIS Technician, Indiana American Water
Slide
"I use the Arrow 200® units to map streams, wetlands, invasive plant species, potential bat–roost trees and more."
Wetlands & Permitting Manager, Environmental Solutions & Innovations, Inc.
Slide
"Well we have received the Arrow 200® unit. It is awesome! It's the easiest to configure GPS receiver that I've used in my 20+ years of GPS data collection."
GIS Coordinator, Mohawk Valley Water Authority
Slide
"With the Arrow 200® / Arrow Gold® and RTK network, I get two centimeters or closer than that."
Co-Founder, MittNorr Skog & Fasteight AB
Resources for Current Arrow 200® Customers
Get Started
Ready to get started with your new Arrow 200® GNSS receiver? Follow along with this Arrow Quick Start Guide to power on, Bluetooth® pair, and mount your Arrow 200® GNSS receiver.
Check Your Firmware
The latest firmware for the Arrow 200® is 6.0Aa01. Check your firmware by going to the "About" menu of Eos Tools Pro. If your firmware is not 6.0Aa01, then we recommend contacting our technical support team for instructions on how to upgrade your firmware.
Browse Resources
A variety of informative articles, how-to guides, and video tutorials are available in the Eos Knowledge Base. Browse content to make sure you're getting the most out of your GNSS receiver.