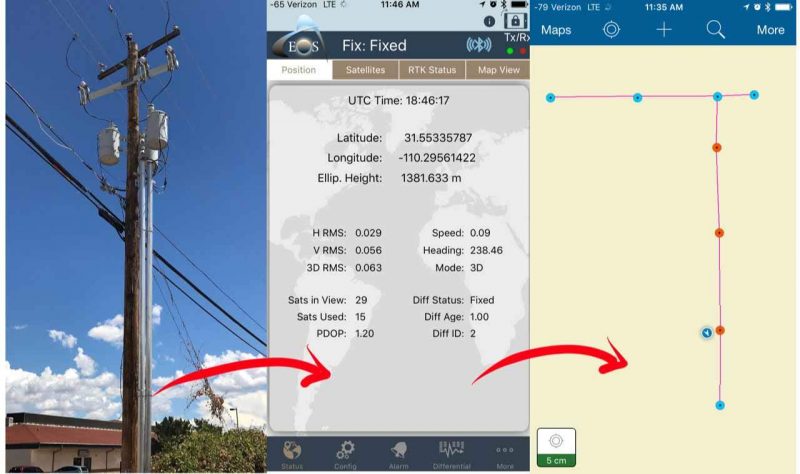 In early 2017, Sulphur Springs Valley Electric Cooperative (SSVEC) received an internal request to improve the data accuracy regarding a small portion of its system along rugged, remote terrain. The GIS team had just a month to collect more than 35,000 asset records.
Here's why they picked the Arrow Gold receiver along with Esri's ArcGIS Collector and iPad®. Read the full feature article from the August 2017 Eos newsletter to discover the results of their decision.
Eos Latest News from the Eos August 2017 Issue
Al's Corner – Technical Tips
Hi… My name is Alvaro and I am the Technical Support Manager at Eos Positioning Systems. I am inviting you to visit our Learning Center on our web site for useful technical information, how-to's and video tutorials. This section will be updated regularly with new material. Any question? please do not hesitate to contact our technical support center.
– Last month we posted a new video on Eos Tools Pro for Android. This month's video is: "How to configure Collector on Android for your Arrow receiver".
– Here is an interesting one-hour recorded Esri webinar on How to get started with ArcGIS Collector. Get tips on how to create web maps, download the popular Collector app, viewing results, and more.
– New Galileo firmware for Arrow 100, Arrow 200 and Arrow Gold are now available. I am inviting you to update your Arrow GNSS receiver's firmware to take advantage of the new features. Please fill out the support contact form specifying your Arrow model(s) with at least one serial number for each model to receive the proper firmware update instructions and files.
Tutorial Video
Configuring Esri Collector on Android for Eos Arrow Receivers
Upcoming Events
September 6-7. Esri GeoConX Conference, Chicago, IL, USA. Visit us at Boot #810
September 14. Esri Brazil 2017 User Conference. São Paulo, Brazil. Visit us at our booth.
September 18-20. WaterPro Conference, Reno, NV, USA. Visit us at Boot #133.
September 20-22. North Carolina ArcGIS Users Group 2017 Fall Conference, Caroline Beach, NC, USA. Visit us at our booth.
September 26-28. Intergeo Berlin 2017, Berlin, Germany. Visit us at Hall 3.1, Booth A3.061