How to Connect Your Arrow GNSS Receiver to iOS Devices (iPad, iPhone)
Step 1 Power on the Arrow Receiver
Do this by pressing firmly the power button for 5 seconds. Go to the "Settings" menu on your iPhone/iPad and select "Bluetooth". Turn on the Bluetooth radio and allow the device to discover the Arrow.
Step 2 Connect via Bluetooth®
Tap on the Arrow receiver Bluetooth name that appears in the list of discovered accessories to initiate the pairing and wait for a few seconds for the device to connect.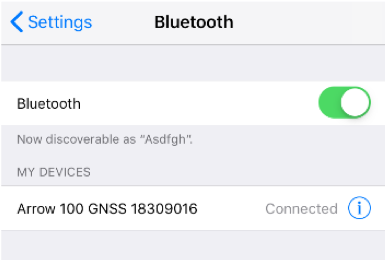 Using Eos Tools Pro with iOS
Eos Tools Pro is a free monitoring app from Eos Positioning Systems for the Arrow GNSS series. It is available for free on the App Store for iOS devices.
Step 1 Download Eos Tools Pro from the iTunes App Store.
Step 2 Launch the application on your iOS device.
If your Arrow is connected via Bluetooth, the application will display the various menus along with all the information coming from the receiver.