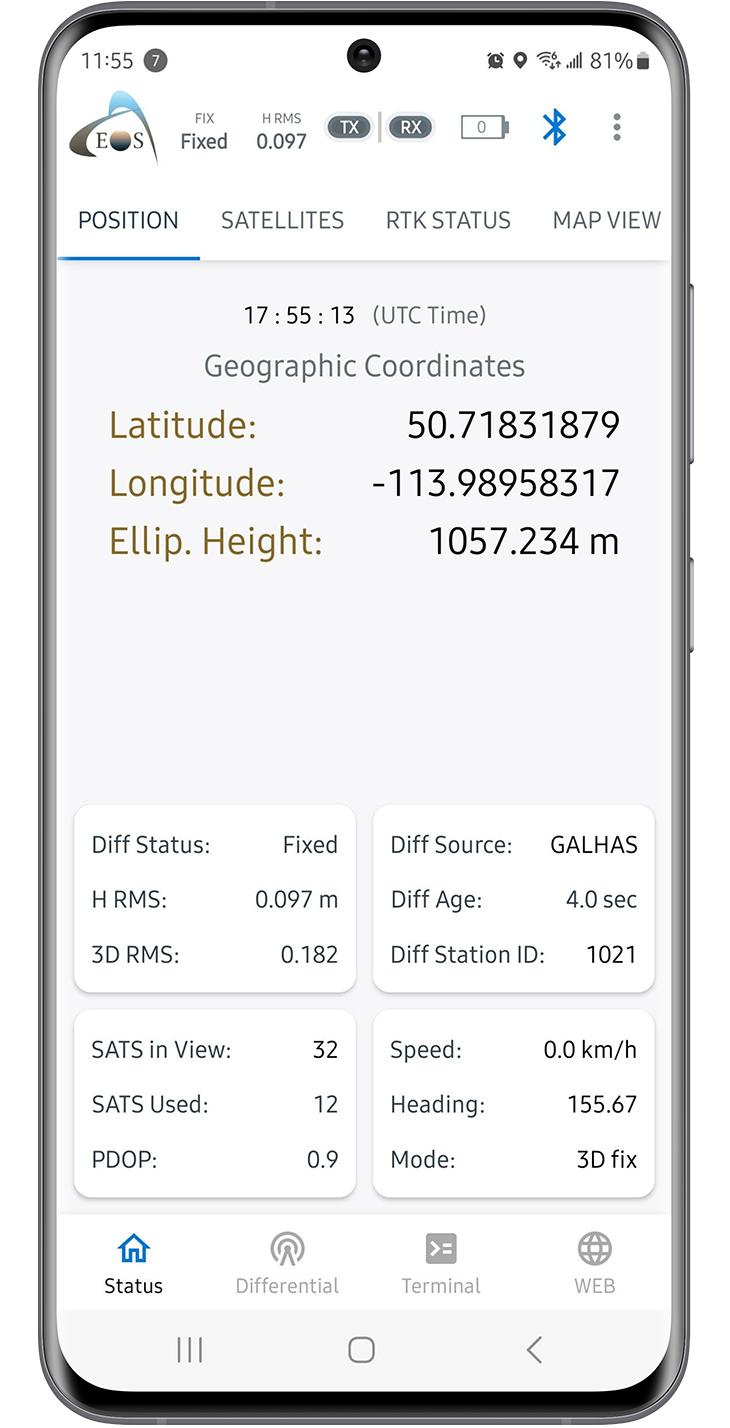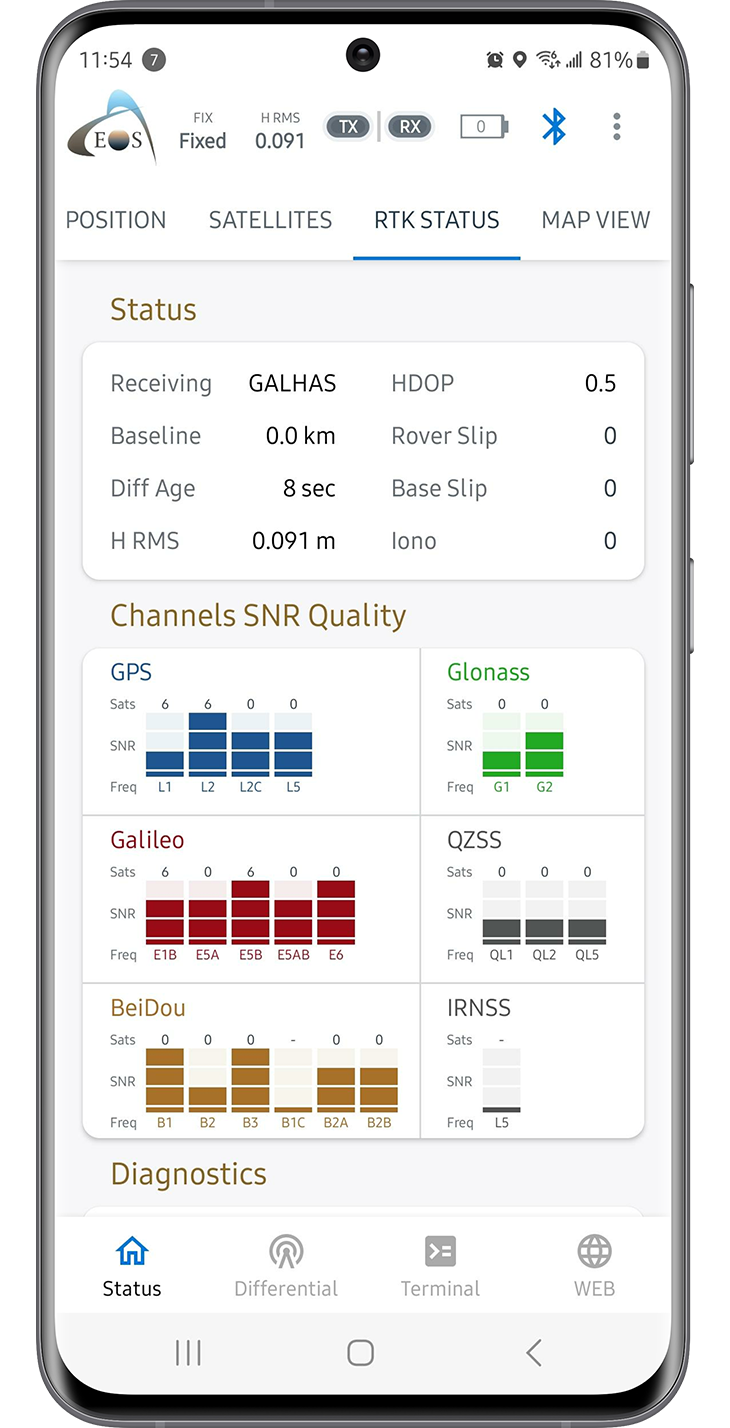 Typical Performance of the Arrow Gold+ Using Galileo HAS Initial Service
Since Galileo HAS is currently in its Phase 1 initial service of implementation, we should expect reduced performance, particularly in convergence times.
In recent beta tests, Eos partners and staff observed two performance metrics, convergence times and absolute accuracy, when using an Arrow Gold+ GNSS receiver connected to Galileo HAS for corrections. The Arrow Gold+ was set up over a highly accurate control point. The control point coordinates were calculated using a PPP service available from the Canadian Geodetic Survey division of Natural Resources Canada.
PPP is an advanced technique used to post-process GNSS data. The PPP service uses precise satellite orbit, clock and bias corrections derived from a global network of GNSS receivers to calculate highly accuracy positions anywhere on the globe. The control point coordinates derived from PPP were processed six days after data collection to ensure that precise orbits were being used in the comparison. The resulting error estimates for our control point coordinates were 5 mm, 4 mm, and 15 mm for latitude, longitude, and height (respectively).
Each test logged several one-hour sessions of GNSS data including the Galileo HAS corrections. These HAS corrected positions were compared to our highly accurate PPP control point coordinates. The charts below show the horizontal error decreasing during the Galileo HAS convergence tests. In most tests, the HAS corrected positions were within 10 cm of our control point after one hour of logging.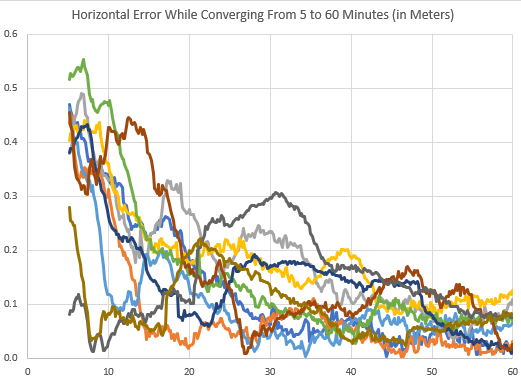 The diagram below shows positions corrected by Galileo HAS that were collected over time (positions were collected at a one-second interval). The Arrow Gold+ receives and processes the Galileo HAS corrections received over the E6B signal from the Galileo satellites. As shown below, after approximately 60 minutes, the best accuracy achieved is <20 centimeters, and when a fixed solution is achieved, the Arrow Gold+ can get down to even the sub-decimeter level. This is within the stated accuracy that we should expect from the service, which is <20 cm in nominal conditions.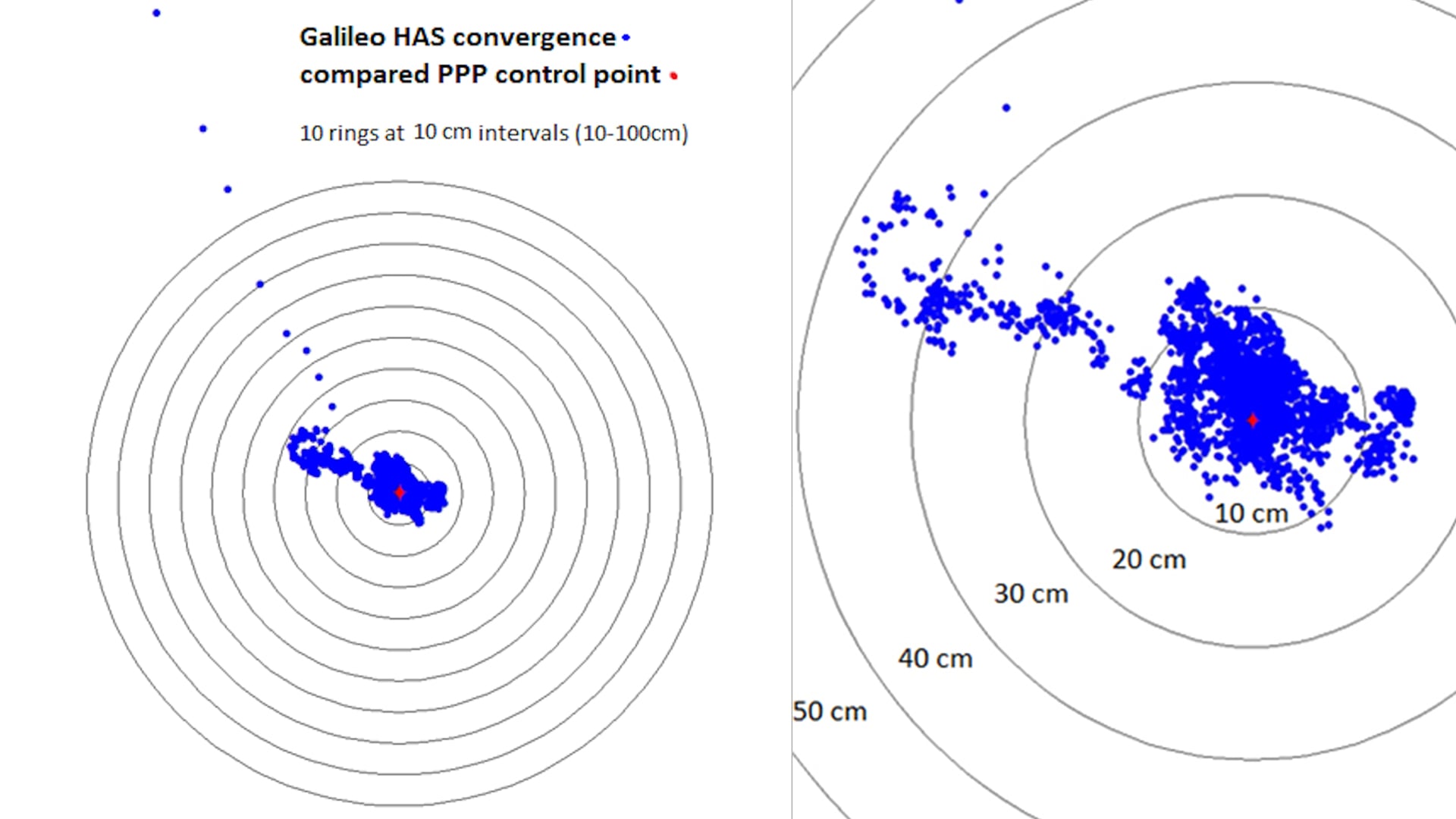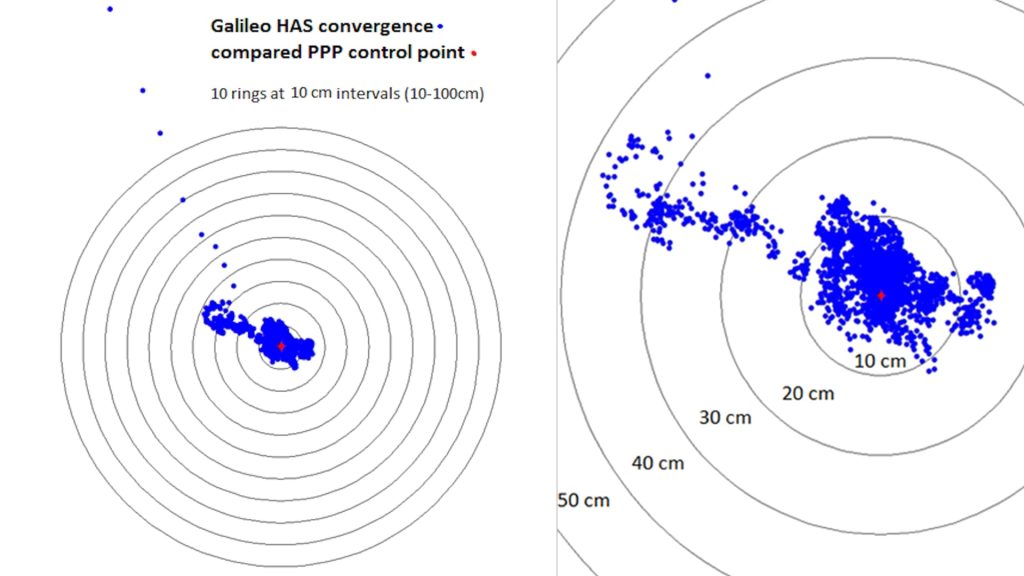 We will have to wait until HAS enters Phase 2 (full service) before we will see the convergence times reduced to <300 seconds (about 5 minutes) globally and <100 seconds (about one and a half minutes) in Europe.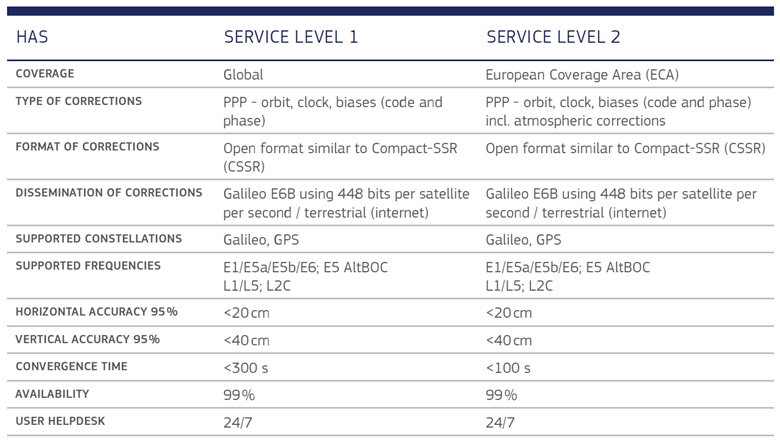 Datum Considerations
The Galileo HAS system uses a specific reference frame called the Galileo Terrestrial Reference Frame (GTRF). The GTRF is an independent realization of the International Terrestrial Reference System (ITRS) and is based on the estimated coordinates of each one of the Galileo sensor stations. For a given point, the difference between coordinates expressed in ITRF and GTRF is less than 3 cm.
The interoperability between GPS and Galileo should be considered since the GPS and Galileo reference frames are close versions of ITRF. This provides a high level of interoperability between the positions collected with GPS and those collected with Galileo.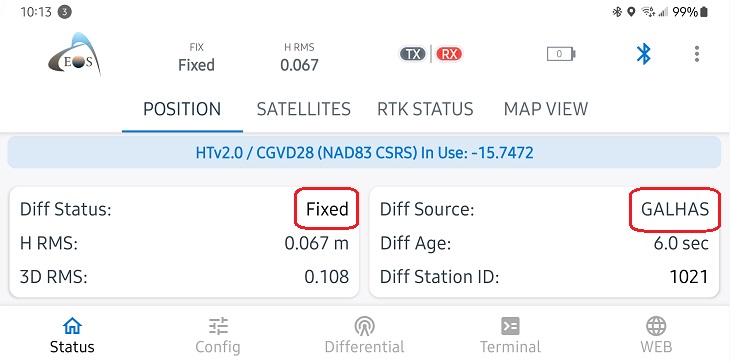 Now that Galileo HAS has entered its initial phase of implementation, the mapping and GIS community can benefit today. By using an Arrow Gold+ GNSS receiver, anyone within the initial service area can achieve <20 cm accuracy.
Are you interested in getting started? Contact our team today to inquire about using Galileo HAS with the Arrow Gold+.
You May Also Like One of These Posts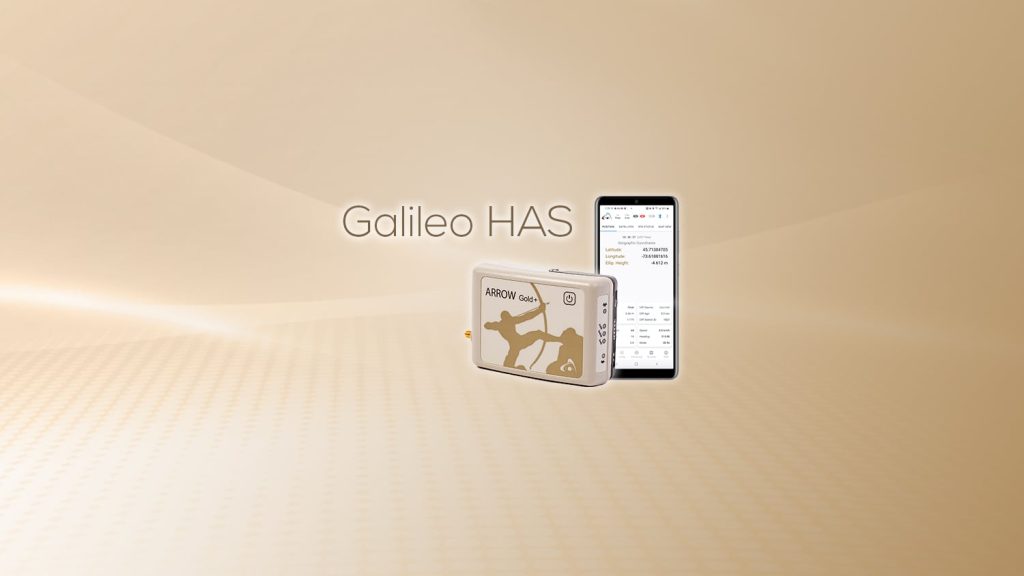 Eos Positioning Systems Announces Support for Galileo HAS with its Arrow Gold+™ GNSS Receiver
The Arrow Gold+ GNSS receiver is the first in the GIS market to support Galileo HAS, providing free 20 cm accuracy worldwide.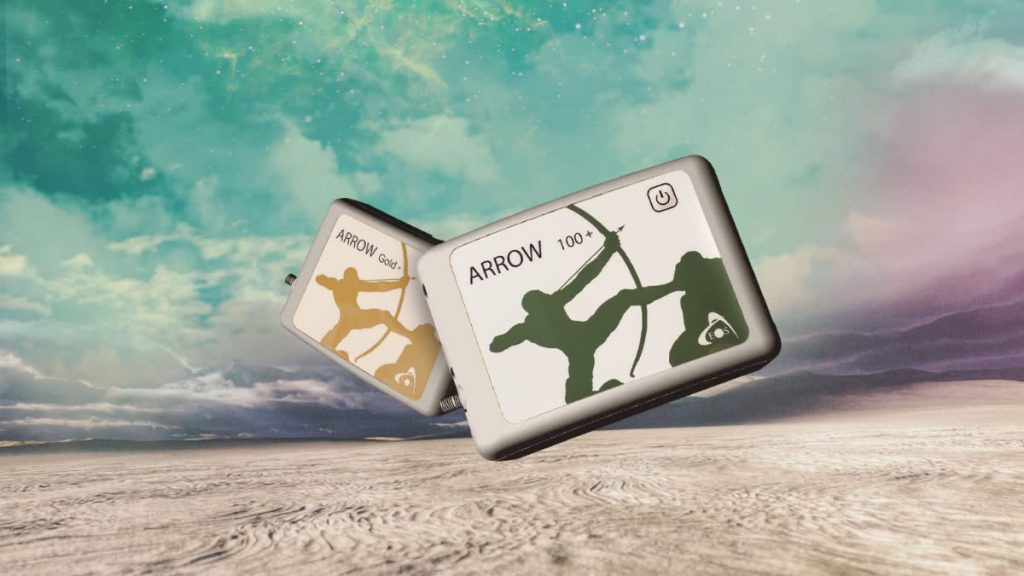 Eos Positioning Systems Announces Two New Arrow Series® GNSS Receivers: The Plus Models
The Arrow Gold+™ and Arrow 100+™ plus models build upon the company's highest-demand, standard GNSS receiver models but offer even more value.