Eos received the award in the "Solution Alignment: Mobile" category
MONTREAL, OCTOBER 26, 2021 — Eos Positioning Systems, Inc., the global leader in the design and manufacture of GNSS receivers and related solutions for GIS users, announced today it has received a 2021 Esri IMGIS Award in recognition of its GNSS solutions alignment with Esri mobile mapping software.
"We could not be more proud of the collaborative nature that has developed between Eos and Esri, and more importantly the value of these mobile solutions for our mutual customers worldwide," said Jay Terrill, Business Development Manager for Esri Canada.
The 2021 Esri IMGIS award comes in recognition of Eos supporting the Esri ArcGIS user community in their adoption of highly reliable, accurate and innovative mobile mapping solutions.
"A foundational system of record starts with accurate and efficient field data collection," said Jeff Shaner, Field Apps Product Engineering Lead at Esri. "Powerful mobile mapping solutions, like Eos provides, align with the Esri's technology and streamline the collection process to provide a foundation GIS customers can build from."
Eos Positioning Systems is an Esri Partner Network Gold partner and Canadian company. Its GNSS hardware and solutions have been adopted by Esri ArcGIS users for infrastructure applications across sectors (e.g., electric, gas, telecommunications, water, wastewater, transportation, municipalities, public works, and more).
"We are absolutely honored to be recognized by Esri for this IMGIS award," Eos CTO Jean-Yves Lauture said. "We view this as a vote of confidence to continue striving toward making mobile teams' jobs easier and more valuable."
About Eos Positioning Systems, Inc.
Eos Positioning Systems® Inc. (Eos) designs and manufactures the world's premier, high-accuracy GPS / GNSS receivers for the Bring Your Own Device (BYOD) market. The Arrow Series® receivers feed submeter, subfoot and centimeter RTK GPS / GNSS location data to any iOS®, Android, Windows, and Windows Mobile device. Free Eos software utilities, such as Eos Tools Pro, were designed to provide users with the smoothest experience of integrating high-accuracy location data and metadata into their mobile workflows.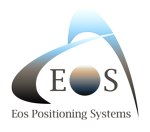 About Esri
Esri, the global market leader in geographic information system (GIS) software, location intelligence, and mapping, helps customers unlock the full potential of data to improve operational and business results. Founded in 1969 in Redlands, California, USA, Esri software is deployed in more than 350,000 organizations globally and in over 200,000 institutions in the Americas, Asia and the Pacific, Europe, Africa, and the Middle East, including Fortune 500 companies, government agencies, nonprofits, and universities. Esri has regional offices, international distributors, and partners providing local support in over 100 countries on six continents. With its pioneering commitment to geospatial information technology, Esri engineers the most innovative solutions for digital transformation, the Internet of Things (IoT), and advanced analytics. Visit us at esri.com.