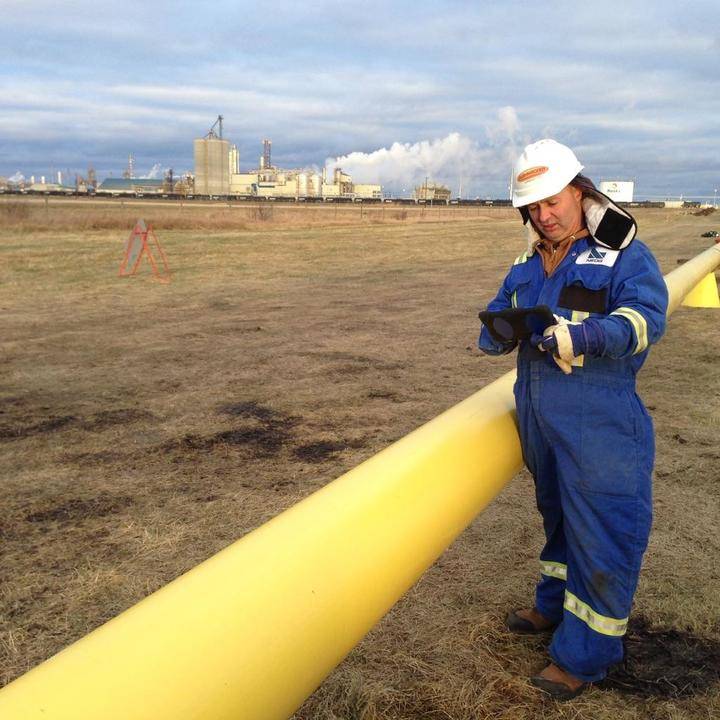 In that difficult economic environment, Enmapp, a leading pipeline services company based in Calgary, Canada, decided to switch its data collection process to an iPad® with TerraGo Edge application installed. It is linked with an Eos Arrow 100® GNSS receiver through Bluetooth®, after a rigorous trial showed that the combination's accuracy was comparable to—and in some places better than—that of the dedicated GPS device.
In that move, Enmapp is joining construction companies, first responders, government agencies, retail stores, and a host of other organizations in the mobile revolution, which is generating billions of dollars in savings in data-collection costs.
"The hardware savings are enormous with the new GPS kit at less than $10,000, compared to the old kit, which was over $70,000," said Lance Fugate, program manager at Enmapp. "But the ongoing reduction of labor costs is even more valuable over time."
It's an example of how data companies are feeding that flow of return on investment going to shareholders. Continue Reading…
About Eos Positioning Systems, Inc.
Eos Positioning Systems®, Inc. (Eos) designs and manufactures the world's premier, high-accuracy GPS / GNSS receivers for the Bring Your Own Device (BYOD) market. The Arrow Series® receivers feed submeter, subfoot and centimeter RTK GPS / GNSS location data to any iOS®, Android, Windows, and Windows Mobile device. Free Eos software utilities, such as Eos Tools Pro, were designed to provide users with the smoothest experience of integrating high-accuracy location data and metadata into their mobile workflows.