The app supports RTK connectivity for reliable centimeter data collection and monitoring in the field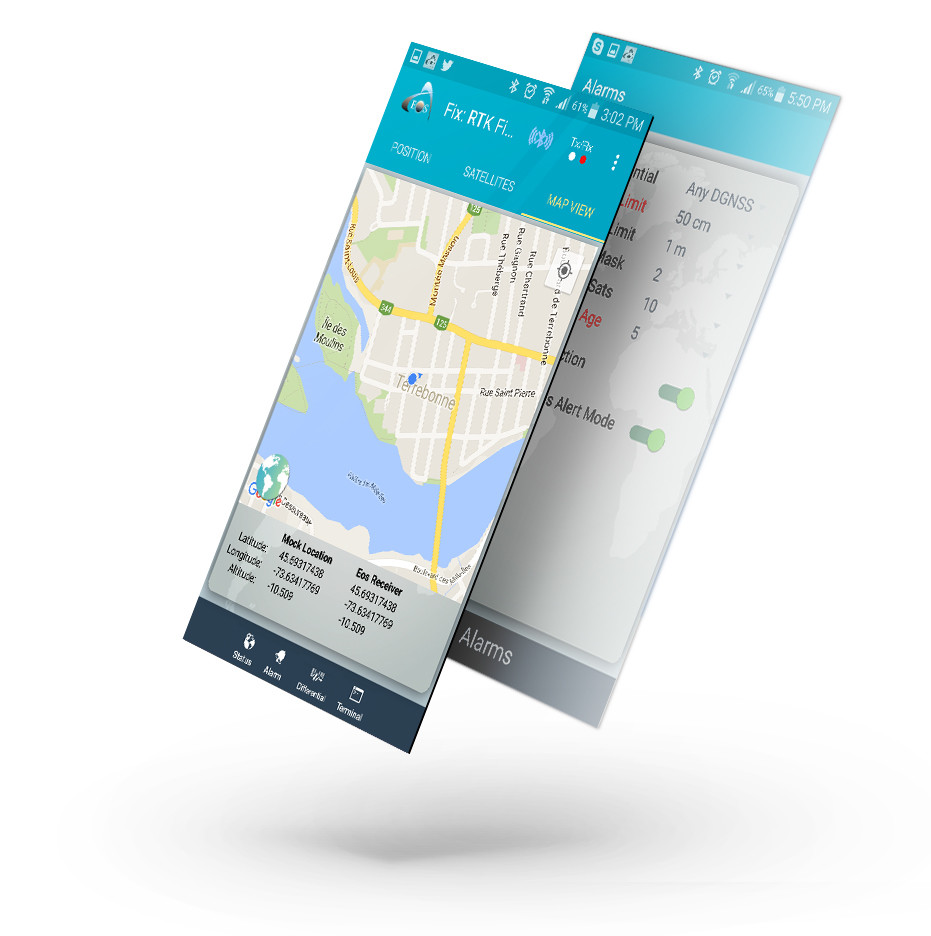 MONTREAL, QUEBEC, CANADA — Eos Positioning Systems®, Inc. (Eos), the world's leading manufacturer of affordable high-accuracy GNSS receivers for the BYOD market, announced today the release of Eos Tools Pro for Android.
Eos Tools Pro for Android is a comprehensive RTK NTRIP app that works with the Arrow Series® of GNSS receivers on any Android smartphone or tablet.
With Eos Tools Pro downloaded and an Arrow Series® receiver connected via Bluetooth®, any Android smartphone or tablet becomes a powerful data collection device capable of recording centimeter-accurate GIS data in real time.
"We designed Eos Tools Pro for the RTK user," Eos CTO Jean-Yves Lauture said. "This app is by far the most comprehensive NTRIP app available on the Android market today. Eos Tools Pro turns inexpensive consumer smartphones and tablets into powerful, high-accuracy GNSS data collection devices."
Eos pioneered submeter and centimeter GNSS receivers for the BYOD market years ago. Today, Eos manufactures the world's leading device-agnostic, real-time, high-accuracy GNSS receivers, the Arrow Series®.
More about Eos Tools Pro for Android
Using the app is simple.
Eos Tools Pro features a drop-down menu, so the simply opens the app and selects which Arrow Series® receiver he would like to connect his Android smartphone or tablet. This eliminates any confusion as to which GPS/GNSS device the user is using in the field.
Field users can toggle between multiple views. First, Eos Tools Pro will display the user's location anywhere in the world, thanks to tight integration with Google Maps. In addition, the user can view detailed satellite information, such as a skyplot, which plots each visible satellite as well as related information (e.g., whether a satellite is being used in field corrections and signal strength via bar graphs for each constellation). Finally, a screen called "Terminal" displays NMEA data flowing, and also allows the user to send commands to the receiver.
In addition, Eos Tools Pro also has user-configurable audio and visual alarms. These alert the user to poor quality GNSS metadata, as defined by the user's standards for metrics such as a high PDOP, a lost RTK correction, or an unacceptable correction age. Real-time alerts create important real-time quality-control functionality in the field, avoiding the return of poor-quality location data to the office experienced by users on older GNSS technology.
To ensure the app remains future proof, Eos Tools Pro also supports all current and future constellations (e.g., GPS, Glonass, Galileo and Beidou).
Eos Tools Pro and Arrow Series® receivers are designed for mapping and GIS professionals who require high-accuracy data. The technology is growing in popularity among Esri users, which has prompted a close partnership between Eos and the world's leading GIS company.
"The Eos Tools Pro app enables Android devices running Esri's ArcGIS Collector app on Android smartphones and tablets to collect data as accurate as one centimeter, " Esri Product Manager Jeff Shaner said. "It's a big leap forward to enable Collector to serve the high-precision GNSS user."
About Eos Positioning Systems, Inc.
Eos Positioning Systems®, Inc. (Eos) designs and manufactures the world's premier, high-accuracy GPS / GNSS receivers for the Bring Your Own Device (BYOD) market. The Arrow Series® receivers feed submeter, subfoot and centimeter RTK GPS / GNSS location data to any iOS®, Android, Windows, and Windows Mobile device. Free Eos software utilities, such as Eos Tools Pro, were designed to provide users with the smoothest experience of integrating high-accuracy location data and metadata into their mobile workflows.