Survey-grade Arrow Gold® GNSS receiver assists the nonprofit's mission to develop clean water supply across Haiti
MONTREAL, Canada, Oct. 23— Eos Positioning Systems, Inc.® (Eos), the world's leading provider of easy-to-use and affordable high-accuracy Bluetooth® GNSS receivers, is giving back to the global water community by supporting Haiti Outreach's sustainable water initiative.
Haiti Outreach is a 21-year-old nonprofit organization dedicated to helping Haiti become a developed country. Haiti Outreach collaborates with individual Haitian communities to create and maintain access to potable water through community outreach, well digging, and distribution-network development. Haiti Outreach's community-led initiatives are heavily planned and prioritized, thanks to comprehensive field data collection and advanced geospatial analysis.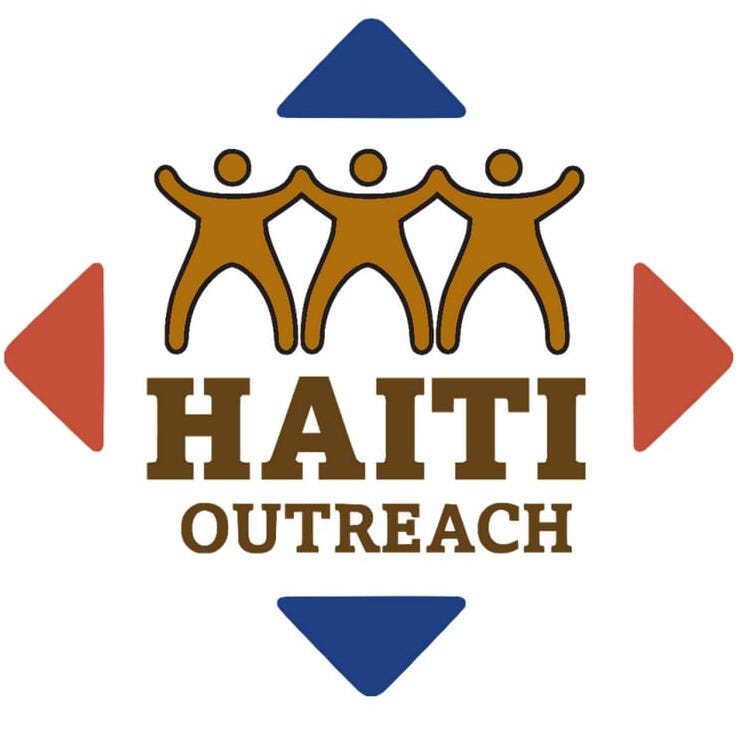 "In most of these communities, there has only ever been a short-term vision, because the need has always been urgent. Haiti Outreach is changing that mentality."

— Jean-Yves Lauture, CTO, Eos Positioning Systems
The Eos Arrow Gold® GNSS receiver helps Haiti Outreach build and improve potable water distribution networks by providing accurate subfoot elevations required for hydraulic modeling simulations. The GNSS receiver uses Atlas® satellite-based corrections to provide real-time decimeter (three to five centimeters) location throughout the country.
"Water is life, and making this basic necessity available to every person is at the foundation of Haiti Outreach's work," Eos CTO Jean-Yves Lauture said. "I believe strongly in Haiti Outreach's long-term vision to empower Haitian communities through development, education and cooperation."
A typical project begins when a community reaches out to Haiti Outreach to ask for a well. Haiti Outreach shifts the conversation from asking for a well to asking: "How can we provide our community with a sustainable source of drinking water?"
"It's all about creating a transformation in the way we think," Haiti Outreach Director Neil van Dine says. "It's not just about having a well. It's about having a future where the water doesn't make you sick."
Haiti Outreach began in 1997 with a mission to bring clean water to more people in Haiti, and also to have them take on the responsibility for the maintenance and sustainability. But in 2005, they realized their program was not as successful as they hoped. Determined to improve the management of new and existing wells by the communities themselves, the organization shifted its approach toward involving greater community outreach and support. They developed a program much more effective at producing the desired long term outcome, that these wells are successfully maintained indefinitely by the people of the communities.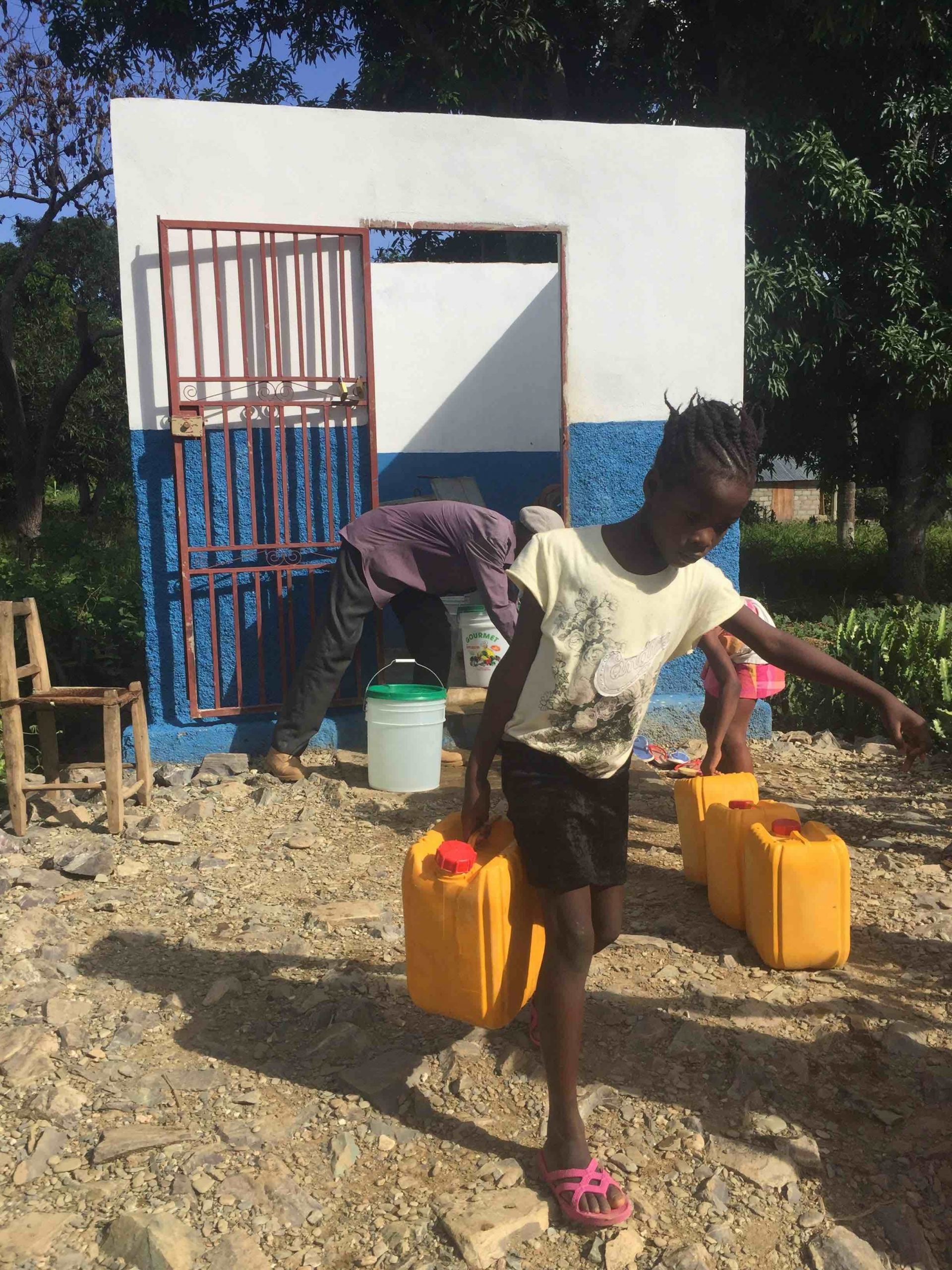 "We've had a success rate of 90 percent functioning wells since 2005. That's almost twice the success rate worldwide."

—Neil van Dine, Director, Haiti Outreach
Today, Haiti Outreach spends several months educating communities on the management of potable water resources, before going in to perform most of the field data collection, analysis, planning and construction. The focus shifts from providing relief, to providing and designing sustainable development.
"At the end of the day, it's a very powerful shift in thought," van Dine says. "We've had a success rate of 90 percent functioning wells since 2005. That's almost twice the success rate worldwide."
Part of Haiti Outreach's program includes creating community buy-in for a collective revenue stream, much like a monthly water bill, that supports future upkeep of the well. The average cost per household is about $0.50 USD per month, which is collected and supervised publicly and transparently.
"In most of these communities, there has only ever been a short-term vision, because the need has always been urgent," Lauture said. "Haiti Outreach is changing that mentality. They are providing a development plan for now and the future. This is a slow process but is already proving successful. It is a true privilege to be able to support such noble efforts."
Donate to Haiti Outreach here.
Scroll down to view more images, and to learn more about each organization.
Accessing Potable Water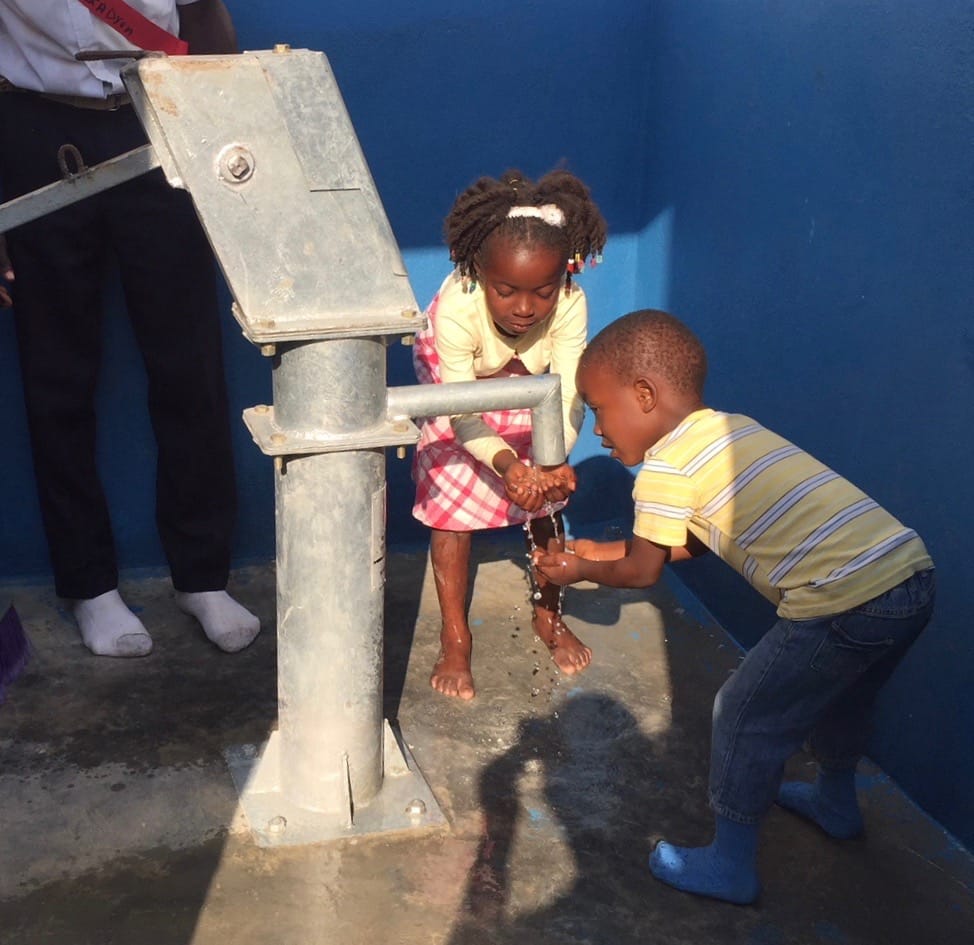 Community Outreach with Neil van Dine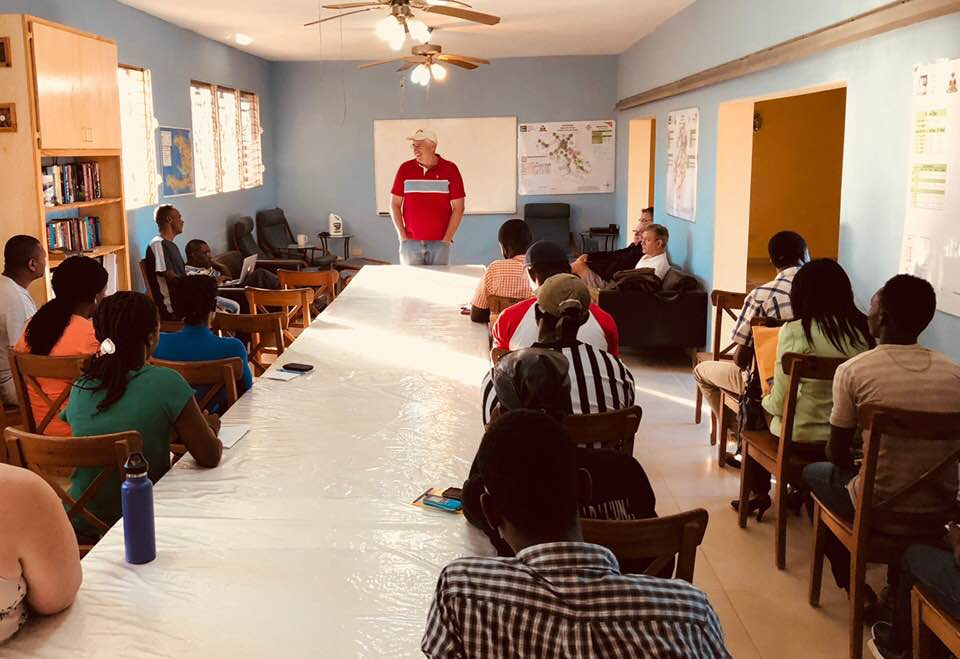 Well Drilling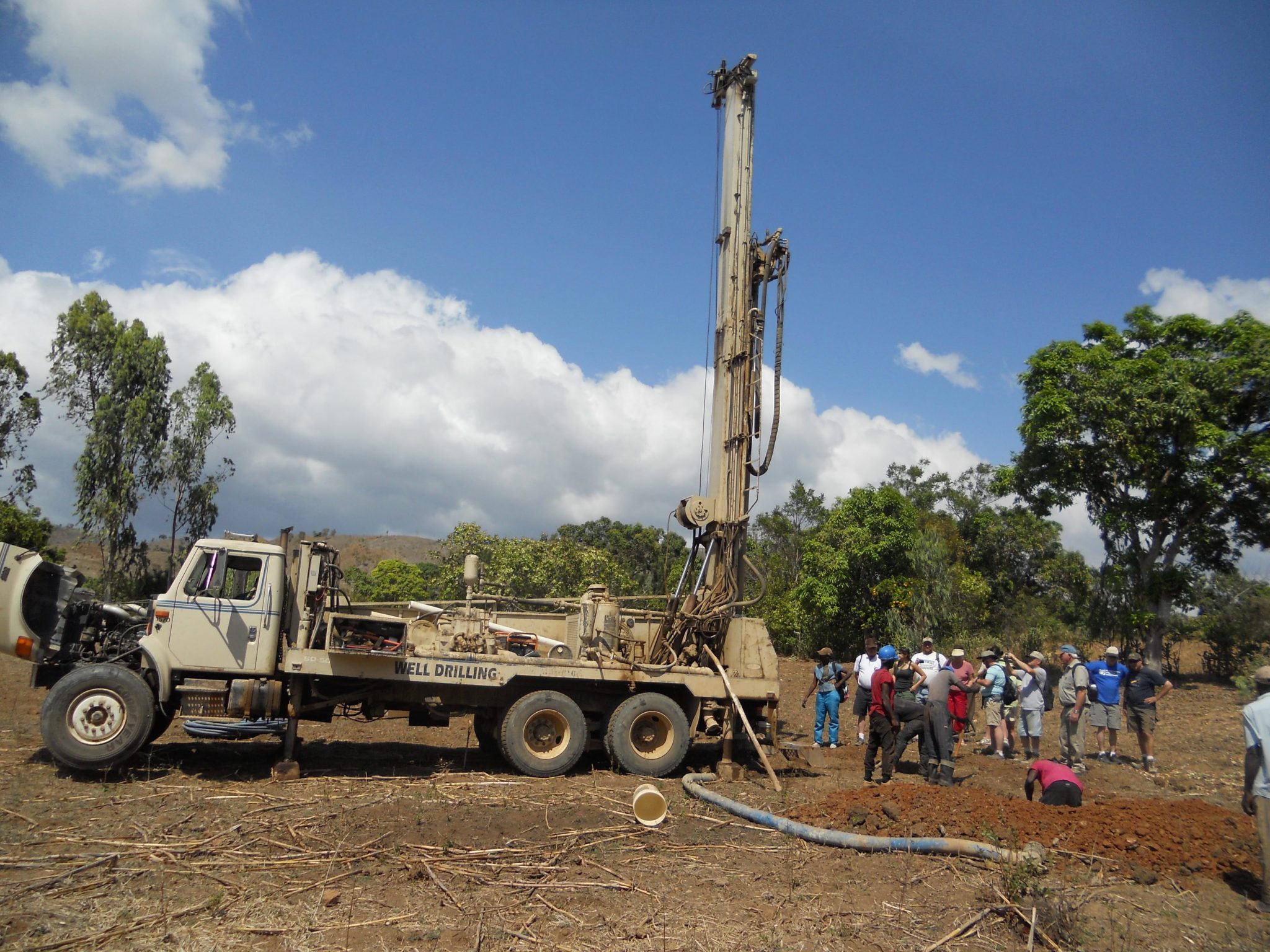 About Haiti Outreach
Haiti Outreach is a non-profit 501(c)3 organization whose principal working base is in Pignon, Haiti, located in the central plateau, and has an executive office in Minnesota, USA.  Since 1997 our partnerships and collaborations have focused on community initiated development projects in rural Haiti communities, primarily in increasing sustainable access to clean water. Their goal is to share the responsibility of achieving their mission with both national and local Haitian governments, as well as community groups and citizens. Haiti Outreach provides training, technical and management skills, and financial assistance to create sustainable clean water projects. It is a hand-up, not a hand-out. Haiti Outreach is a registered non-profit organization not only in the United States, but also with the government of Haiti and is recognized as a private voluntary organization (PVO) with the United States Agency for International Development (USAID).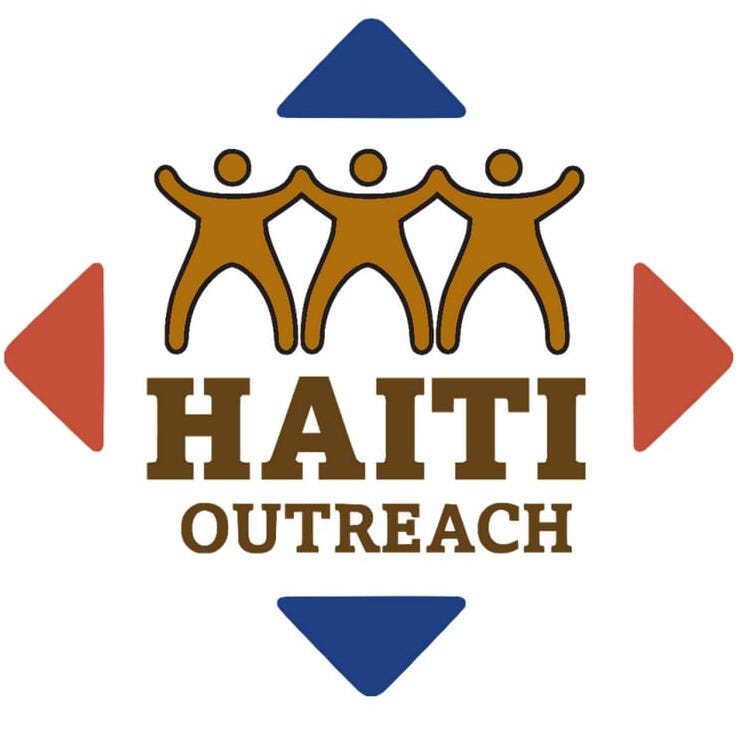 About Eos Positioning Systems, Inc.
Eos Positioning Systems®, Inc. (Eos) designs and manufactures the world's premier, high-accuracy GPS / GNSS receivers for the Bring Your Own Device (BYOD) market. The Arrow Series® receivers feed submeter, subfoot and centimeter RTK GPS / GNSS location data to any iOS®, Android, and Windows device. Free Eos software utilities, such as Eos Tools Pro, were designed to provide users with the smoothest experience of integrating high-accuracy location data and metadata into their mobile workflows. Learn more about Eos.