Customers improve performance, cut costs with survey-grade accuracy thanks to 
TerraGo Edge and the Eos Arrow Series® GNSS receivers on iOS® and Android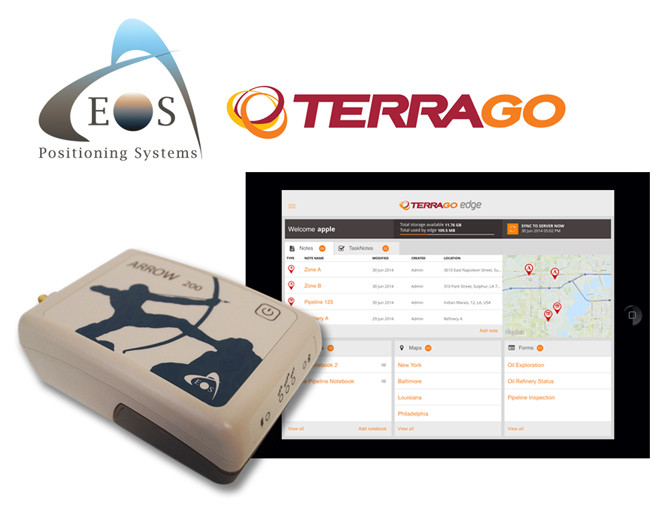 WASHINGTON, D.C. — Eos Positioning Systems®, Inc. (Eos),  the world's leading manufacturer of affordable high-accuracy GNSS receivers for the BYOD market, announced today its partnership with TerraGo, the pioneer of geospatial collaboration and enterprise mobility software.
The partnership combines the TerraGo Edge mobile data collection platform with the Eos Arrow Series® receivers, to provide a solution for submeter and centimeter data collection. The solution delivers a modern, cloud-based, real-time data collection capability that can't be matched by traditional, proprietary GNSS (e.g., GPS) handhelds.
"We interoperate with their receivers at the software level to ensure our customers get the full real-time GPS data set," TerraGo VP of Products and Services Dave Basil said. "[This means] they [can now] monitor and capture data that meets the highest accuracy and quality standards. For our customers, it's as simple as [turning on] Bluetooth® pairing. We've done the [heavy] work to turn their phone or tablet into a survey-grade receiver."
Early Results of the TerraGo and Eos Partnership
The partnership is already producing field-tested, customer-proven results.
Engineering companies and utilities in both water and energy are already performing field data collection and survey work with the TerraGo Edge mobile app (available on iOS and Android) and Arrow Series® receivers.
While the working environments and projects are varied, these customers are all replacing traditional GPS handhelds with the TerraGo Edge / Arrow Series® solution to achieve massive cost-savings and vastly improved productivity.
In Alberta, Canada, Enmapp, a pipeline-inspection company, cut hardware costs by 85% by capturing submeter data in real-time. The real-time workflow eliminated all the costs of post-processing handheld data.
In Colorado, Summit Engineering, an engineering and land surveying firm that serves clients across the United States, reduced its hardware costs by over 50% and improved productivity by more than 30% on a project that required surveying power lines in Minnesota, for one of the country's largest energy companies.
Similar performance improvements and cost reductions have been reported by customers in water-utility, forestry, engineering, agriculture, and environmental sectors.
"TerraGo and Eos are strategic partners," Eos CTO Jean-Yves Lauture said. "Our collaboration goes beyond marketing and includes sharing core technology for the benefit of our customers. We have shared Eos software components with TerraGo, which has built these into the TerraGo Edge mobile app, which in turn  provides the full-fidelity monitoring and lossless capture of NMEA data. That's a game changer."
About Eos Positioning Systems, Inc.
Eos Positioning Systems®, Inc. (Eos) designs and manufactures the world's premier, high-accuracy GPS / GNSS receivers for the Bring Your Own Device (BYOD) market. The Arrow Series® receivers feed submeter, subfoot and centimeter RTK GPS / GNSS location data to any iOS, Android, Windows, and Windows Mobile device. Free Eos software utilities, such as Eos Tools Pro, were designed to provide users with the smoothest experience of integrating high-accuracy location data and metadata into their mobile workflows.