Students from Dalhousie University created a street-tree inventory and analyzed the data to help the Town of Bridgewater prioritize sustainability measures
The Customer: Dalhousie University's School for Resource and Environmental Studies



Since the publication of the UFMP and its subsequent approval by the HRM Regional Council, students and other researchers from SRES have been working closely with municipal urban forest and planning staff to support and monitor implementations of the UFMP.
This has included annual inventorying of new contractor-planted trees, assessment of survivorship of trees and damages to public trees, participation in citizen- and NGO-led plantings and other educational events, and more.
The Opportunity: Bridging the Knowledge Gap in Bridgewater with an Urban Forest Inventory
SRES was approached by staff from the Town of Bridgewater's planning department about carrying out an inventory of the town's trees. As a town actively engaged in sustainability initiatives punching far above its weight (a population of fewer than 10,000 people), Bridgewater staff wanted to better understand the current canopy and identify opportunities for improving the urban forest.
"They hoped an inventory would lead to more informed management decisions, a more engaged citizenry, and help in identifying gaps in the canopy to guide future plantings."

— Dr. Peter Duinker, SRES Professor, Dalhousie University
"Specifically, they hoped that an inventory would serve as an educational tool for staff and citizens, leading to more-informed management decisions, engaged citizenry, and help to identify gaps in the canopy to guide future plantings," Dr. Duinker said.
Other opportunities that come from having a comprehensive inventory include identifying historical planting trends by species that may lead to pest vulnerabilities, and trends in trees growing under utility wires that require maintenance to avoid damages and service disruptions.
The Challenge: One Weekend to Map 2,000 Street Trees
SRES planned to take a small group of graduate students engaged in urban forest learning to conduct a rapid inventory of as many trees as possible in Bridgewater over a single weekend.
Accomplishing this would require the right tools to ensure their time was used efficiently and that their efforts resulted in a useful inventory for urban forest managers.
"With any inventory project, but especially our rapid inventory, it is critical that the equipment does not compromise accuracy for productivity, or vice versa."

— Jessica Quintin, SRES Student, Dalhousie University
"Creating such an inventory requires that tree locations are recorded with a reasonable degree of accuracy and that appropriate information is collected and linked with the spatial database," SRES Student Jessica Quinton said. "With any inventory project, but especially our rapid inventory, it is critical that the equipment does not compromise accuracy for productivity, or vice versa."
Additionally, an easy field data collection workflow was important for such a project, in which students, from a variety of backgrounds and skill levels, have a relatively limited amount of time to learn how to use the tools.
Finally, to count as many trees as possible over the weekend, SRES hoped to have multiple teams working concurrently. This created the need for a platform that would allow multiple data collectors to work at once without multiple conflicting datasets.
The Solution: Arrow 100, Collector, and Student Mobile Devices (iOS® and Android)
Having already acquired an Eos Arrow 100 for SRES's ongoing urban forest inventory in Halifax and other research projects, the researchers knew this GNSS device offered the speed and accuracy necessary to conduct their inventory in Bridgewater.
By pairing the Arrow 100 with Esri's ArcGIS Collector mobile app, SRES had the ability to deploy multiple teams working offline concurrently. Then, they could sync and automatically combine collected data when internet became available again.
"We are glad to have found the right combination of price, accuracy, and productivity with the Eos Arrow 100," SRES Researcher David Foster said.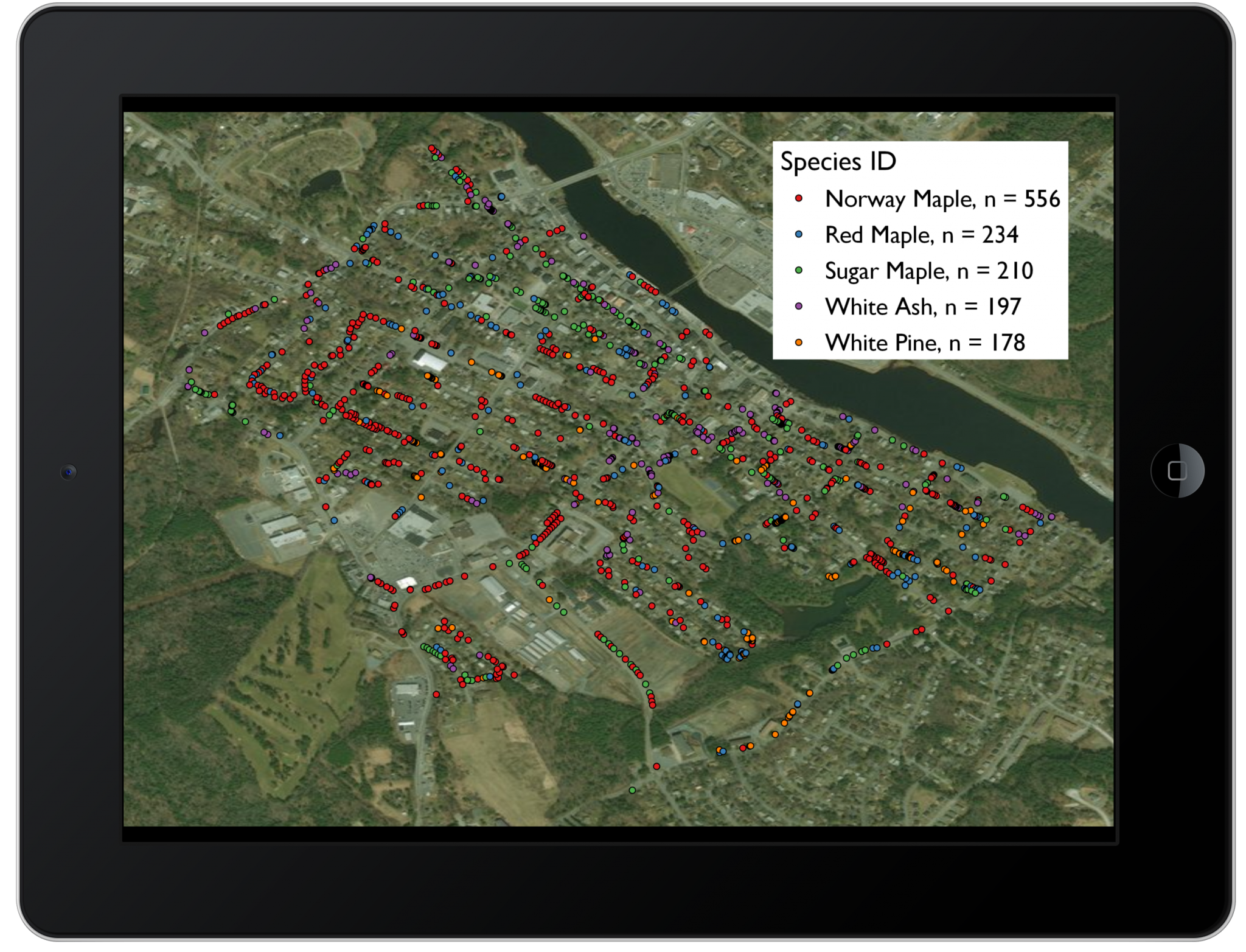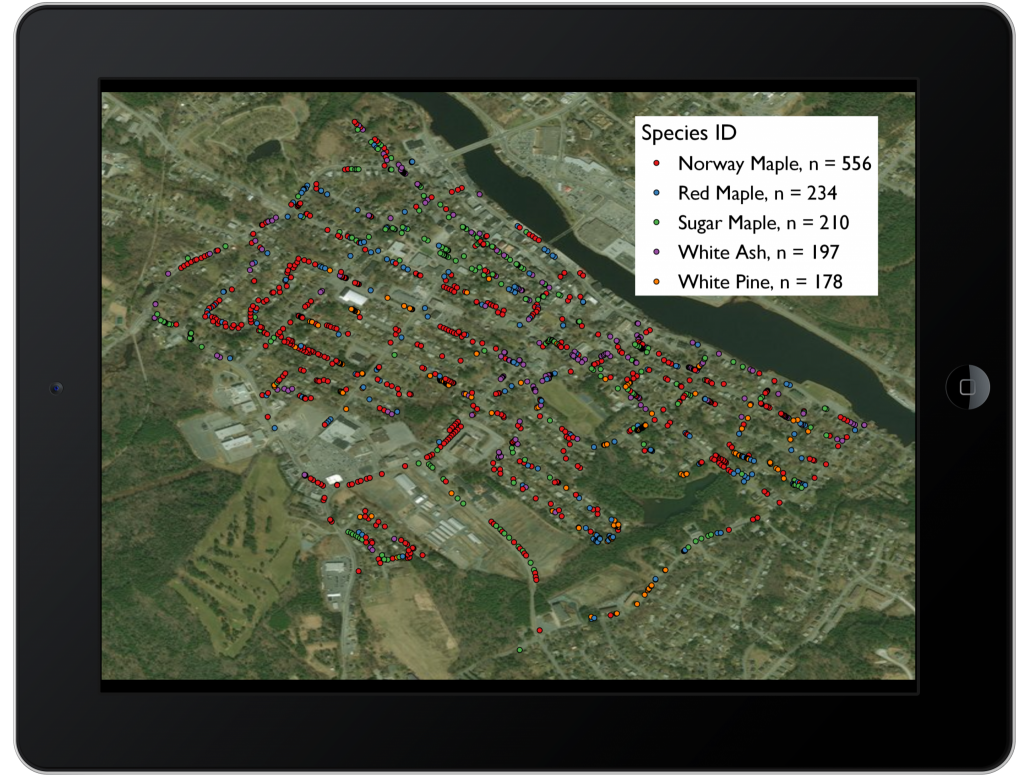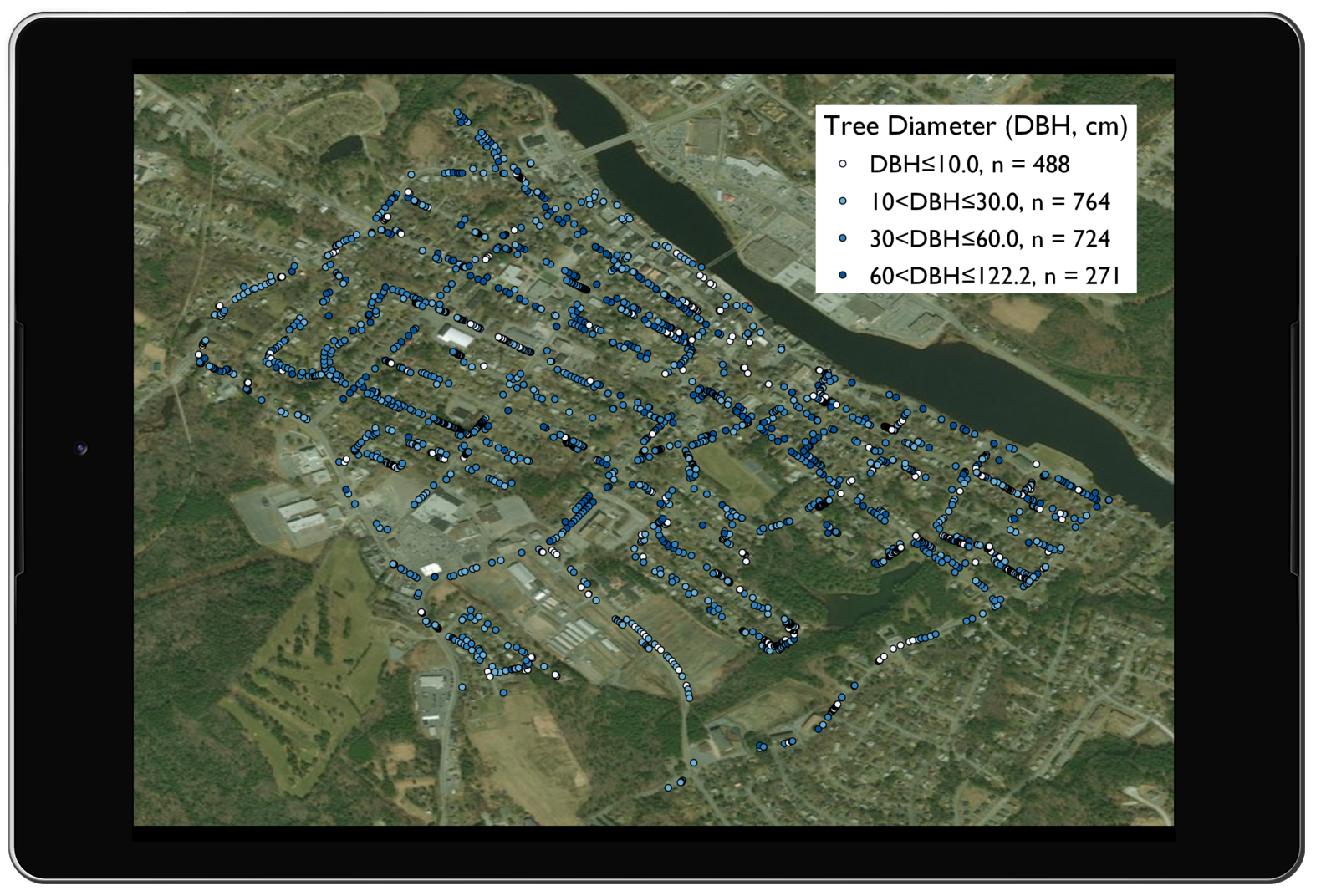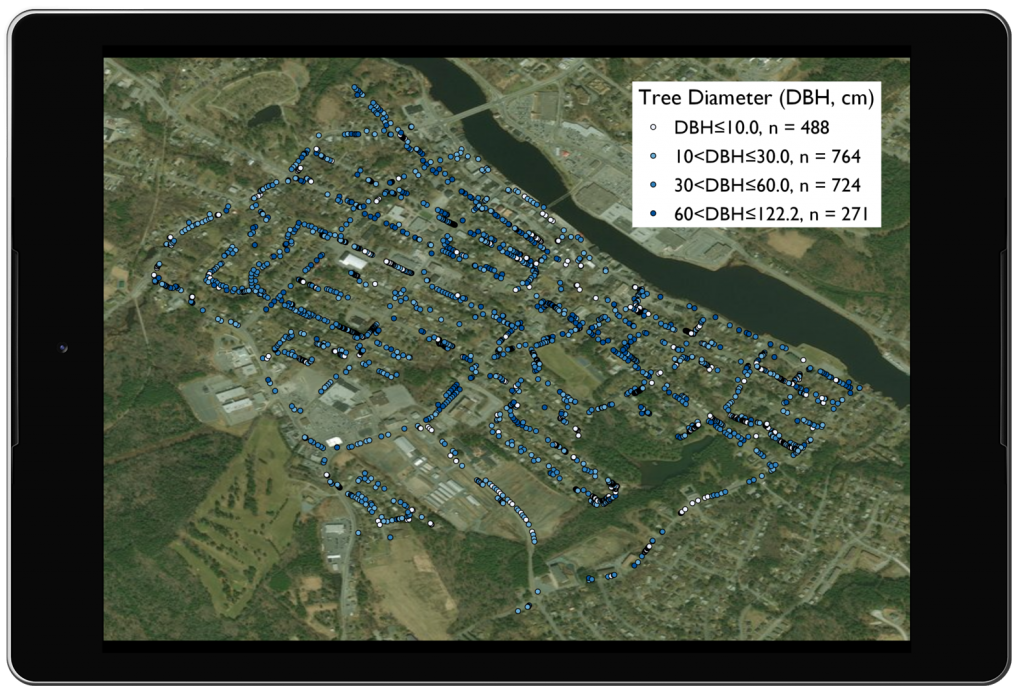 While most of the students have Android and iOS devices that can run the Collector app and interface with the Arrow 100, SRES did not have the budget to purchase multiple GNSS devices.
"We approached Eos with the challenge we faced, and they offered to provide additional units on loan in support of our research," Foster said. "In gratitude, we wanted to share the results of the work this allowed us to accomplish for Bridgewater."
The Workflow: Mapping More than 2000 Street Trees on Multiple Device Types Under Urban Canopy
On a weekend in October, a team of 12 students and other researchers from Dalhousie University inventoried over 2200 street trees in Bridgewater. Each tree was added to the spatial database via Collector, along with additional information about its location and related attributes, including:
Species
Diameter (at breast height)
Condition
Whether the tree was under utility wires.
Trees were inventoried at a rate of approximately 45-55 per hour by each team.
"The Eos Arrow 100 provided submeter accuracy at all times, including near buildings and under light forest canopy."

— David Foster, SRES Student, Dalhousie University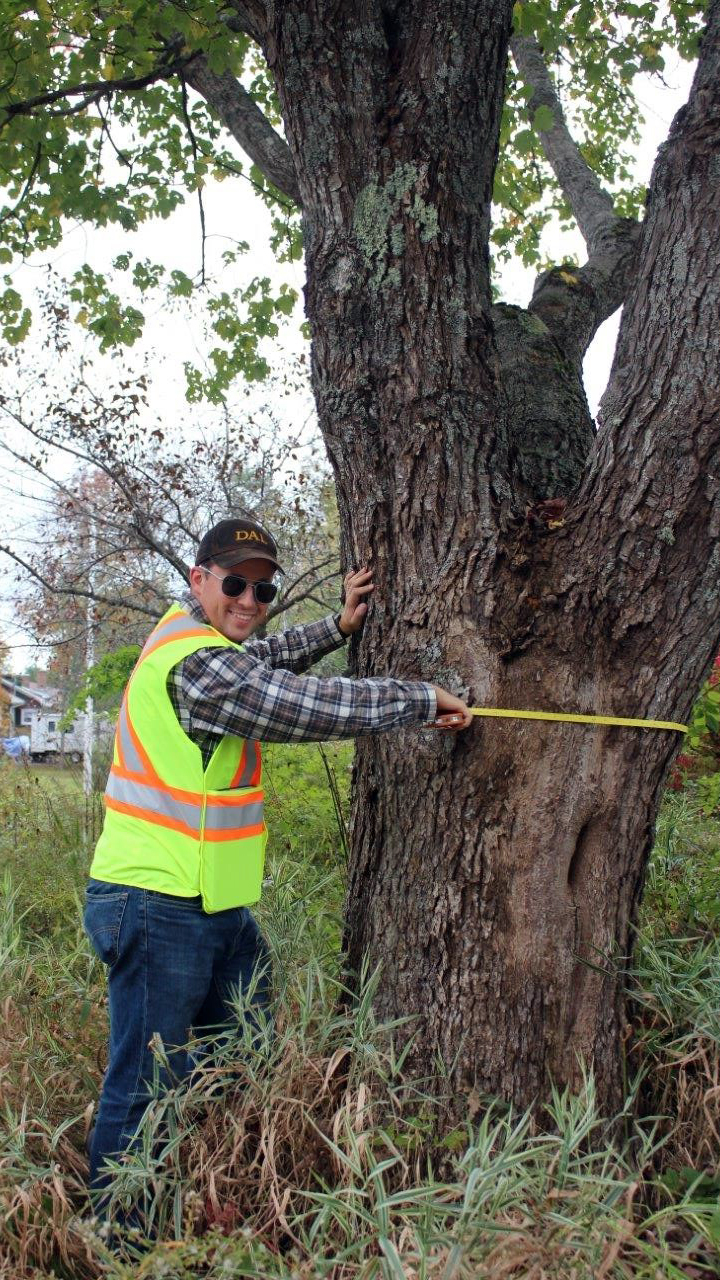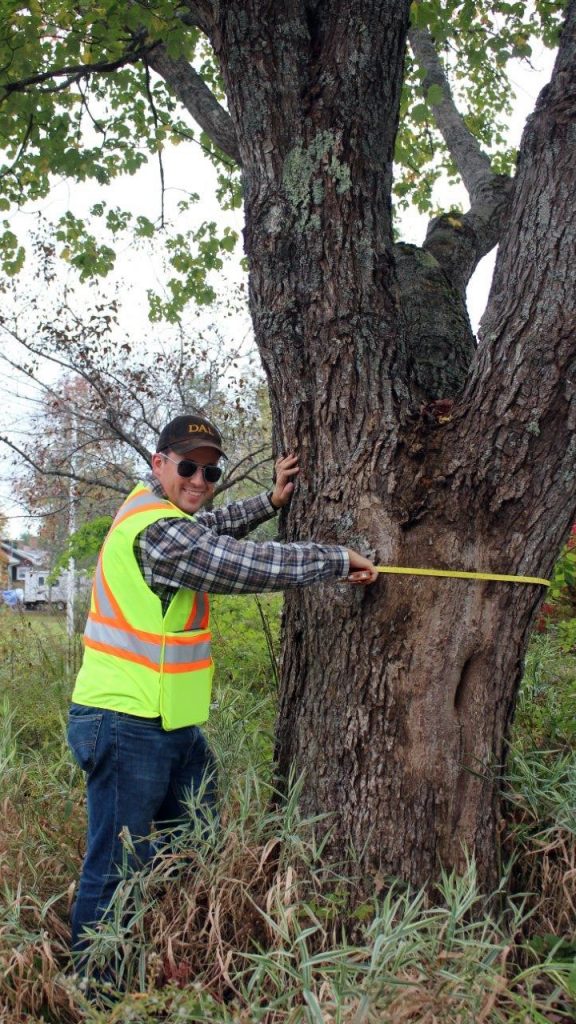 "Traveling between trees was the greatest limitation to our productivity rather than the equipment's performance," Foster said. "The Eos equipment provided submeter accuracy at all times, including near buildings and under light forest canopy."
Next, the collected information could be analyzed in ArcGIS.
"When analyzed in ArcGIS, the database allows unique insights into historical management and future urban forest needs," Quinton said.
The Results: Uncovering Future Threats and Solutions
The students drew several findings from the inventory they created.
First, overall, Bridgewater has an urban forest disproportionately comprised of five species. Together, these account for over 60 percent of the total tree population.
"Managers should be acutely aware of the fact that the Norway maple (Acer platanoides) accounts for a quarter of all near-street trees," Quinton said. "Norway maple are highly invasive and prone to structural issues that can threaten infrastructure."
On a positive note, the other four species are all native to Nova Scotia.
"The town should be proud of that!" Dr. Duinker said.
Unfortunately, with the continued eastward progress of the emerald ash borer (Agrilus planipennis), the town's ash population is at significant risk.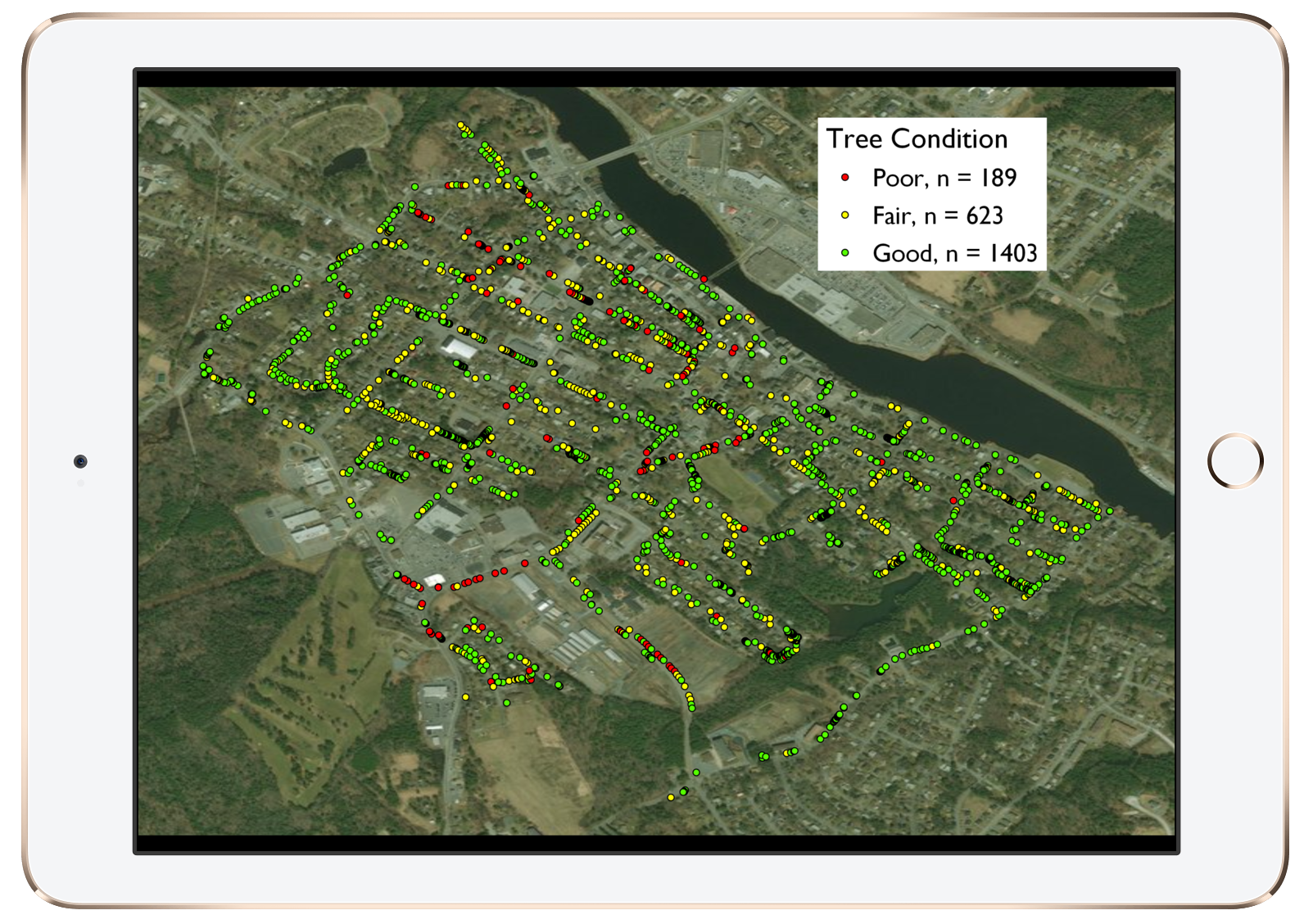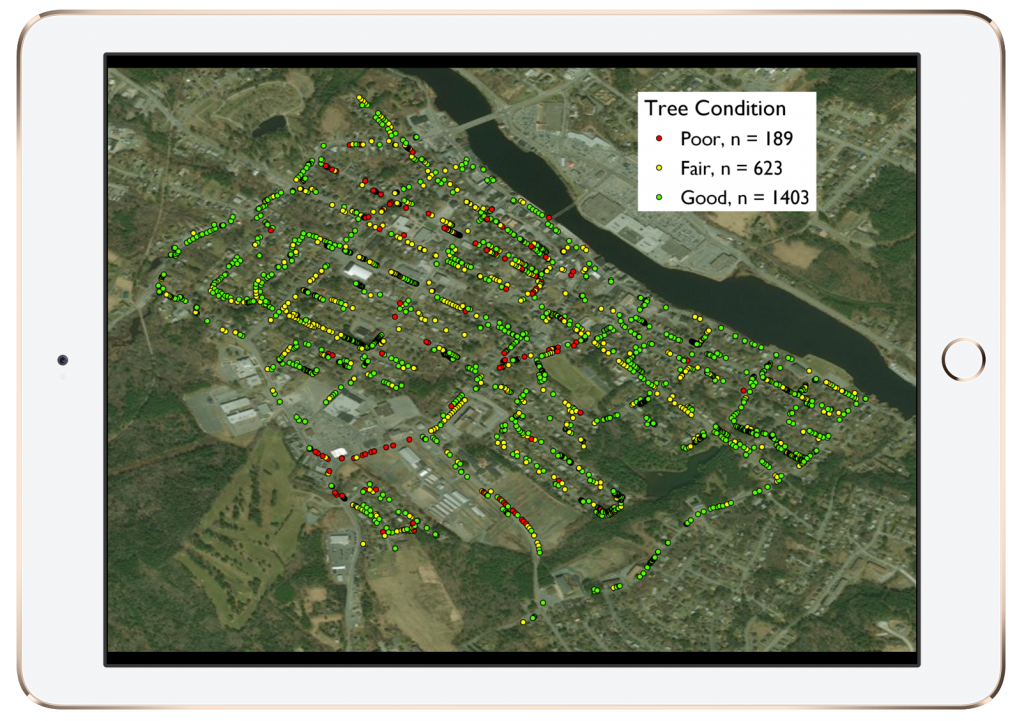 In addition, the team found that the diameter-class distribution shows a low number of smaller trees. This is possibly due to a low rate of street-tree planting.
"Whatever the cause, this will likely lead to a deficit of mid-maturity trees over time, unless addressed by an aggressive planting program," Foster said.
Over half of the urban tree population is noted as 'good' condition. But despite this, 623 trees were noted in fair condition and should be monitored for change in status.
A further 189 trees are noted in poor condition, and the spatial patterns and concentrations of these trees should be investigated to determine the cause.
Finally, approximately one quarter of the town's trees are growing under power utility wires.
"These trees will require increased pruning attention to prevent damages that would disrupt electrical service to the residents and businesses of the Town of Bridgewater," Foster said.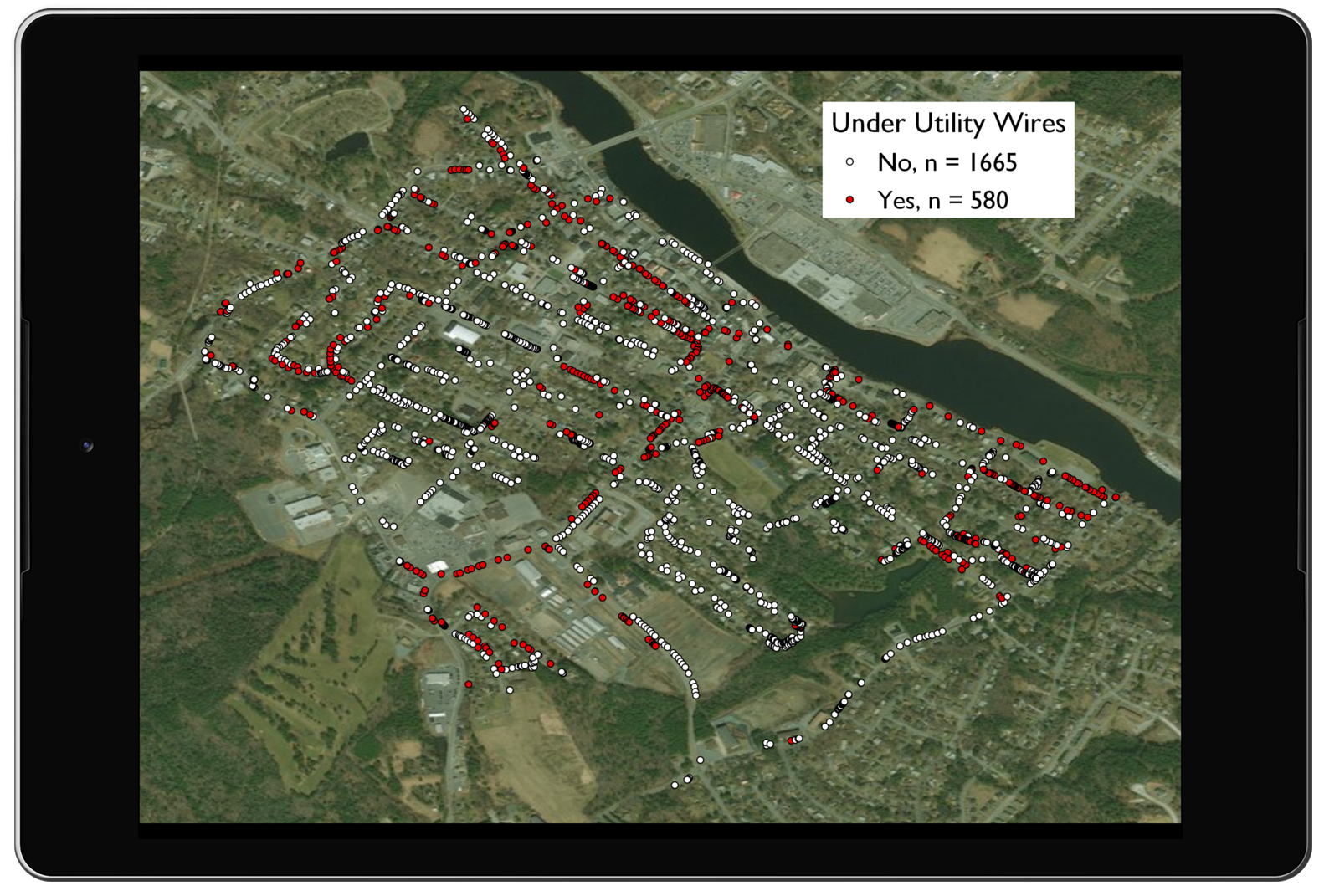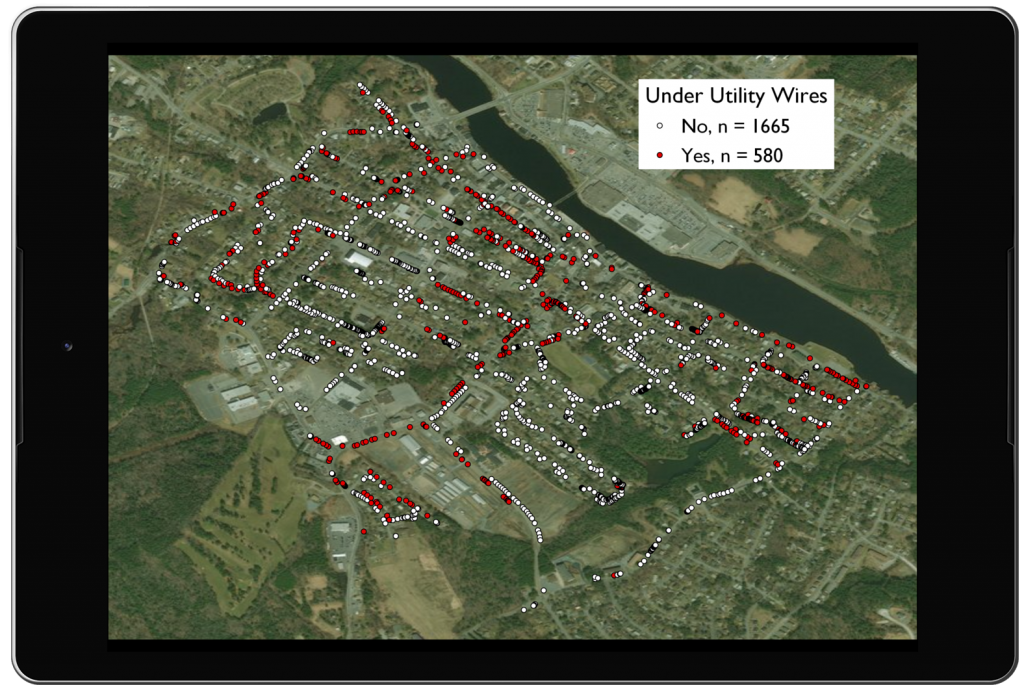 Key Findings:
Five species were found to comprise over 60% of Bridgewater's total tree population. Based on their findings, the SERS students recommended the following:
Raise Awareness: The Norway Maple is an invasive species that can threaten infrastructure, and it was one of the five most inventoried species
Monitor: The rapidly spreading emerald ash borer could threaten the town's ash trees
Plant: Avoid a deficit of mid-maturity trees over time by launching an aggressive planting program
Log Changes: About 620 trees in "fair" condition should be monitored for any change in status
Investigate: Explore the spatial concentration and patterns of of 189 "poor" condition trees and determine the cause
Prune: About 25% of the town's trees are growing under power utility wires and should be pruned
Conclusion: Takeaways from the Bridgewater Tree Inventory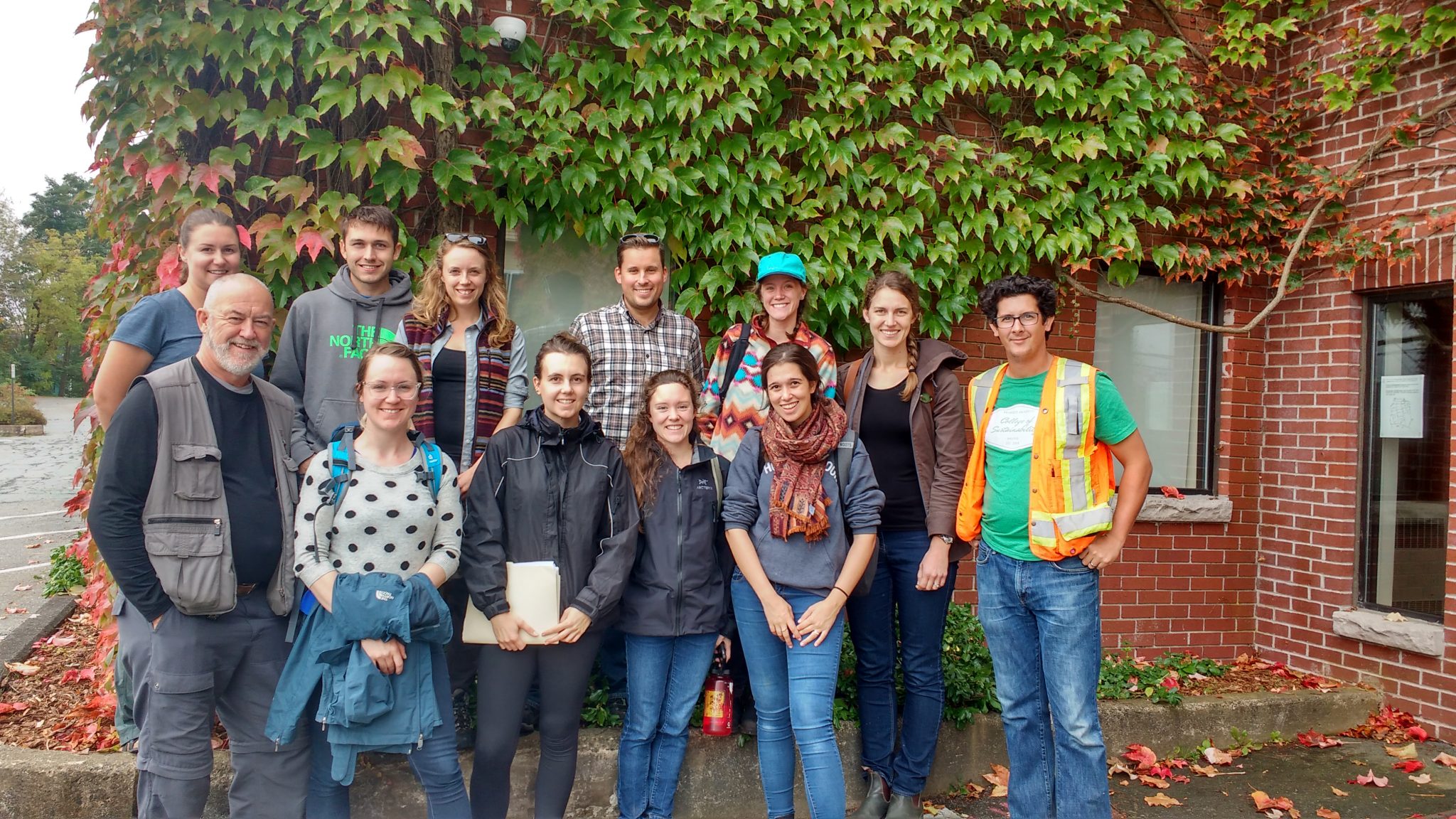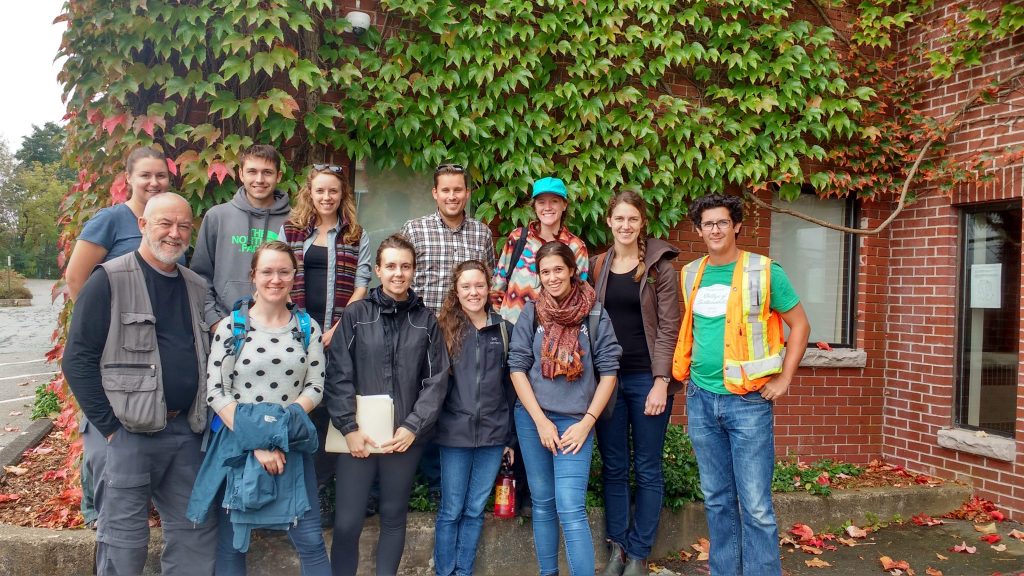 The results of this inventory, as well as conclusions and recommendations about the urban forest and its management, were presented to citizens and elected officials of Bridgewater in 2018.
"They are enthusiastic to continue with another year of tree measurement in partnership with students from SRES," Dr. Duinker said. "We hope to return in fall of 2018. We are pleased to offer our expertise and resources to Nova Scotians and hope that our efforts ultimately contribute to greener urban areas across the province."
Interested in learning more about using the Arrow 100 for forestry?
You May Also Like One of These Success Stories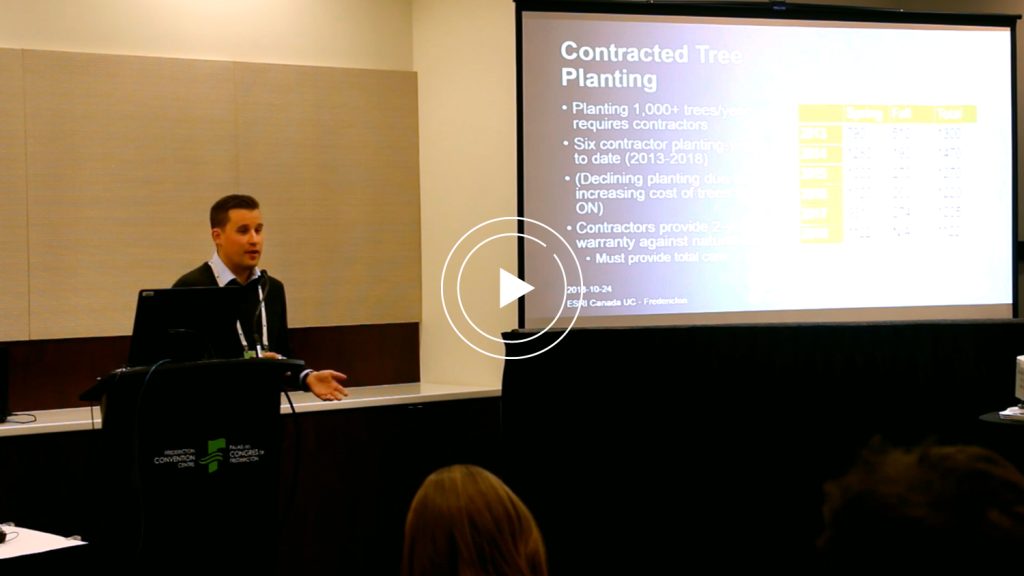 Dalhousie University Maps Urban Forestry for HRM
Urban Forestry with Eos Arrow 100 and Esri Collector: See how students used Collector and Eos Arrow GNSS to hold contractors accountable and save Halifax Regional Municipality over $270,000.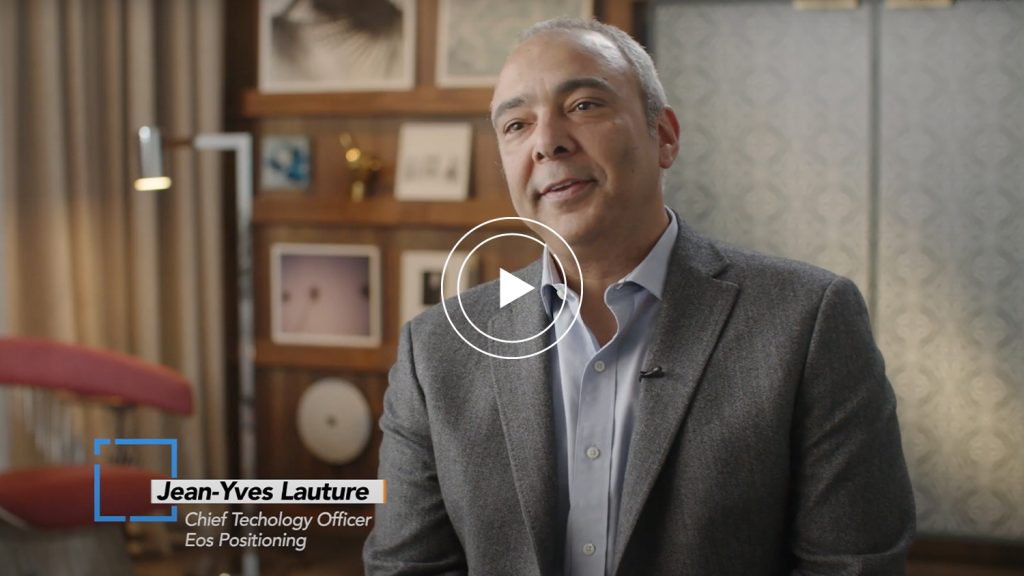 Eos and Esri Make Urban Forestry Easy
Eos and Esri go together in Montreal, where Arrow GNSS and Collector help fight an invasive species. Montreal is also special to Eos CTO Jean-Yves Lauture.