Indiana American Water Uses ArcGIS Online and Eos Arrow 200 to Slash Half-Year Workflow to One Week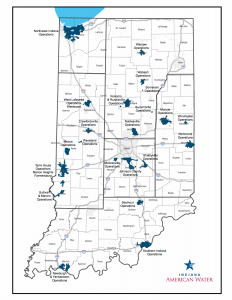 Indiana American Water, a subsidiary of the largest publicly traded U.S. water and wastewater utility, serves more than 300,000 customers across the state.
Last year, Senior GIS Technician Randy Winston and the Indiana American Water GIS team, including Todd Chapman, Ryan Moore, and Jason Glidewell, began looking for ways to streamline the utility's asset entry workflows. This included getting maps in and out of the field as well as getting the as-builts into the central GIS. Distribution system assets, like the valves and hydrants Indiana American Water was installing, are heavily regulated by both federal and state governments — making tracking their data critical.
"We want to ensure we know 100 percent where our valves and hydrants are," Winston said.
In the past, Indiana American Water's installation and as-builting processes could take up to a half-year to complete.
Limitations of Legacy Field Technology
Historically, just getting maps in and out of the field could take up to a month.
The process started in Greenwood, Indiana, where the utility's GIS team created GPS checkout files using the Esri ArcPad application. The team then manually transferred the checkout files from their PCs to other PCs located in operations offices spread across the state. These files were then transferred by operations personnel to all-in-one field devices, where they were used in field collection, and then transferred back to the GIS team in Greenwood.
"That became a challenge," Winston said. "At some point, mistakes would be made. The data could be corrupt, or maybe the files weren't transferred properly. In terms of the timeframe, getting that data checked out, collected, and transferred back to us to check back in could be a two-to-four-week turnaround."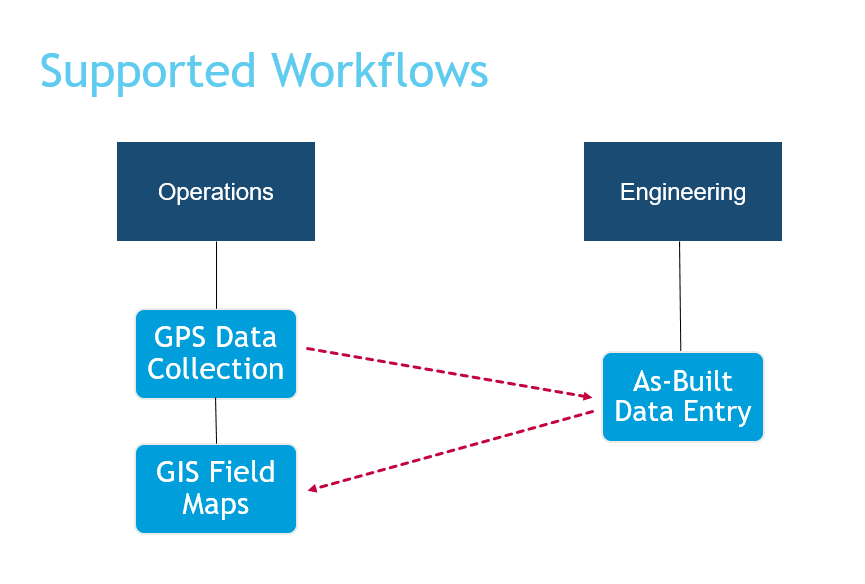 Back at headquarters, files from the field were processed and used to complete as-builting. To do this, the GIS team would cross-reference as-builts with GPS data, add these to the central GIS, and distribute updated field maps organization-wide.
"For GIS to get the as-built data, cross-reference it with GPS data, enter it into our production systems, and enable it to be reflected in the GIS field maps — in the best-case scenario took three to six months," Winston said. "And that's a pipe dream."
There were other challenges beyond the timeframe. The field units weren't very intuitive, and they took a long time — up to fifteen minutes — to connect to the state's real-time kinematic (RTK) network for high-accuracy location data.
The units also had to be replaced soon, at a cost of $7,000 per unit, in order to allow ArcPad to sync data with ArcGIS Online.
"It became apparent we needed software updates, and the legacy-device manufacturer told us they weren't able to upgrade those units because they were out of date," Winston said. "We didn't want to have to replace the whole unit just to update software."
Winston began looking for a less costly, less time-consuming, and more user-friendly solution. He wanted something that was future-proof, meaning it could evolve as the technology inevitably would.
Choosing Collector and iPad®
The GIS team at Indiana American Water was already exploring more ways to use ArcGIS Online.
"We wanted to transfer everything to ArcGIS Online by the end of 2016 for all field operations," he said.
Winston knew ArcGIS Online worked with the ArcGIS Collector mobile app to get maps in and out of the field instantly, without any file transfers.
"You can set up one map that feeds both ArcGIS Online and the Collector application," he said. "So anyone with a web browser can log in and get access, no matter what device you're on."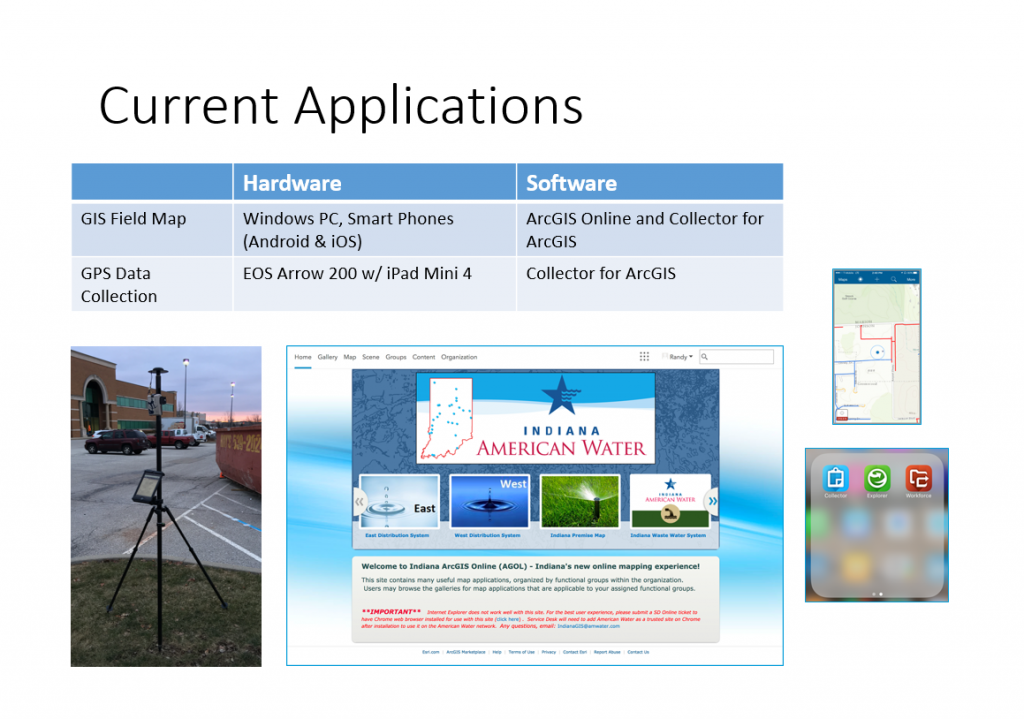 Winston liked Collector for other reasons, too, including its ease of configuration (for his team) and ease of use for field crews.
"It's simple for anyone," he said.
The app also allowed usage tracking, so the GIS team could see how users interacted with the maps and build maps that better suited their needs based on that feedback.
"That information is valuable for us as we help them see the data that's important to them," Winston said.
Winston started piecing together a Collector-based solution for the asset entry workflow. He decided to use iPad Mini 4 tablets because they had a friendly interface and could be replaced relatively cheaply.
The only remaining challenge was increasing the accuracy of location data collected. Natively, iPads collect data only to within about five meters of accuracy.
Achieving Sub-Centimeter Accuracy with Arrow 200
At the time, Winston went looking for a high-accuracy data-collection solution — and it turned out a colleague at New Jersey American Water was piloting the Arrow 200 GPS/GNSS receivers for just that functionality.
The Arrow 200 is manufactured by Esri Silver Partner Eos Positioning Systems (Eos). It's a lightweight, battery-powered GPS/GNSS receiver that attaches to any backpack, belt, hat, or other fieldwear. The Arrow 200 taps RTK, satellite, and other networks to retrieve location metadata that's accurate to within a centimeter. It sends this data to a tablet via Bluetooth and overwrites the less accurate native location data. Thanks to a 2016 update to Collector, the receivers could now work seamlessly with an ArcGIS Online workflow.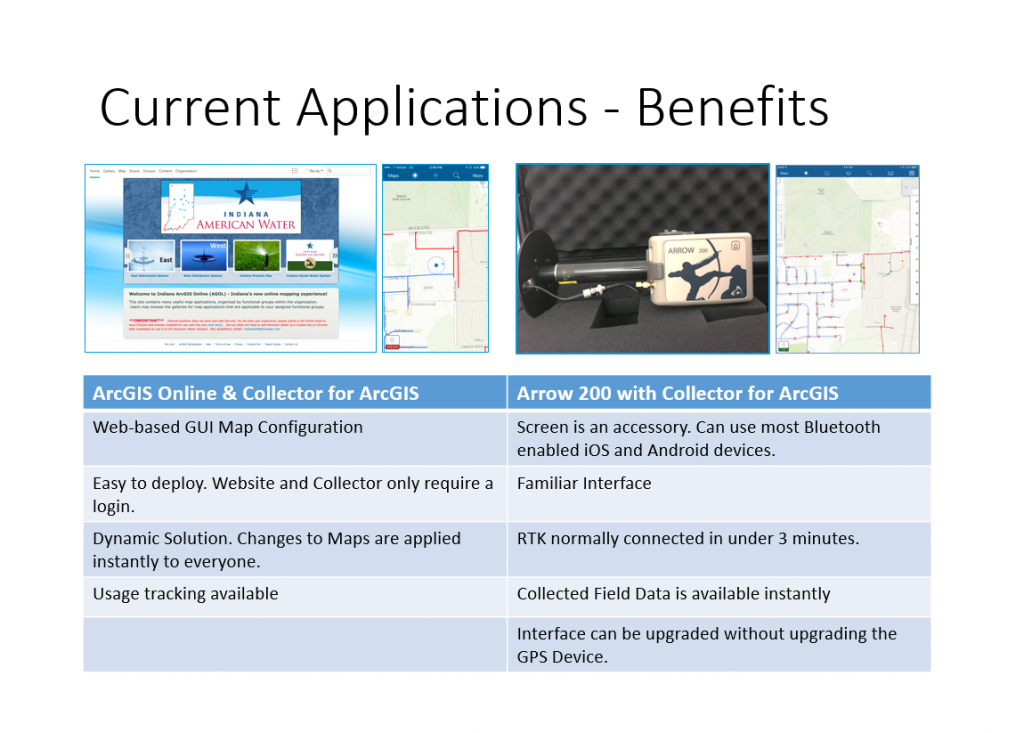 "Many were waiting for that high GPS accuracy, because we all knew GPS on the phone wasn't that great," Esri Global Water Practice Industry Manager David Totman said in a webinar. "Our ability to attach [Collector] to external GPS receivers is really what made Collector a full, professional-grade field collection solution."
The Arrow 200 was not only extremely accurate, but it also took just a fraction of the time to collect the location metadata.
"We don't have guys out there waiting fifteen minutes anymore, and getting impatient because they can't get a real-time connection," Winston said.
Winston set up a Collector-iPad-Arrow environment on his tablet and, in a short time, piloted the new solution kit.
Reducing As-Builtin Time to Just 7 Days
Collector, iPads, and the Arrow 200 receivers went to the utility's operations offices in the field. Field crews collected installation data without having to wait for GPS Checkout files and could instantly share their results with the GIS team at headquarters via ArcGIS Online.
"We completely eliminated any kind of data transport that we had when checking in files," Winston said, adding too that operations teams like using the iPads. "And now we can transfer the as-builts instantly."
Winston asked the field teams to collect the main line at every 25 feet, in addition to collecting the valves, fittings, and hydrants. This created a series of points that represented a nearly-complete view of the main line.
"We effectively created a connect-the-dots template to sketch the assets into GIS," Winston said. "We can't guarantee that the system tie-ins are 100 percent correct, because we still have to wait for the as-builts drawings to come in to verify that. In the meantime, we can create a polygon that encompasses the main locations to communicate the small level of uncertainty that does exist to the field. Once we've verified the tie-ins, we will remove the polygon."
Doing so effectively cut as-builting time from six months to seven days, while retaining a nearly-complete view of the newly-installed main and assets.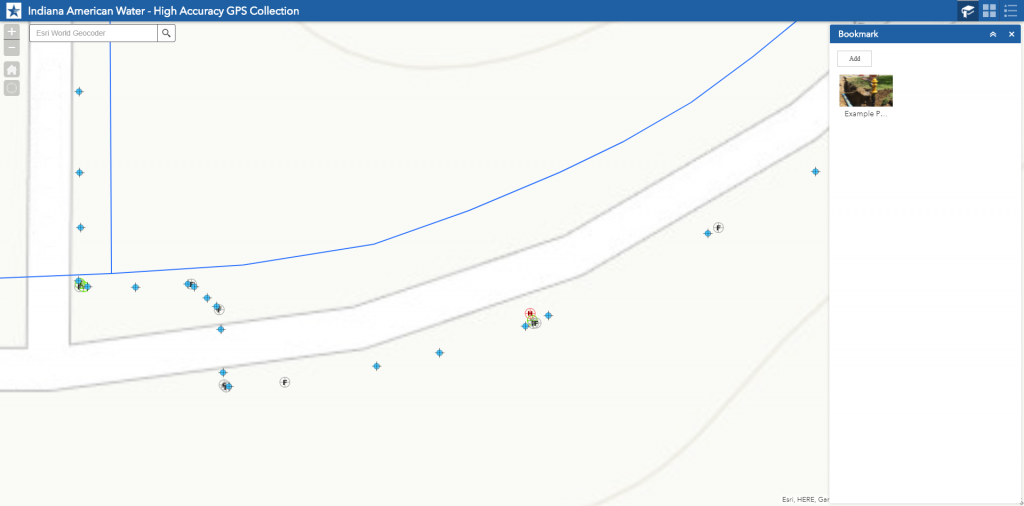 "We're getting our operations folks what they need in seven to ten days to have confidence in what we're doing in GIS," Winston said.
The solution has been well received among engineering and operations teams. Others at the utility are reaching out to the GIS team to find new ways to use ArcGIS Online for solving problems.
"People have ideas on what they need to do their job better," Totman said in the webinar. "That's just an amazing statement for what's going on at Indiana American Water."
To watch a one-hour recorded Webinar Winston presented to Esri Water Meetup User Group, click here.
You May Also Like One of These Success Stories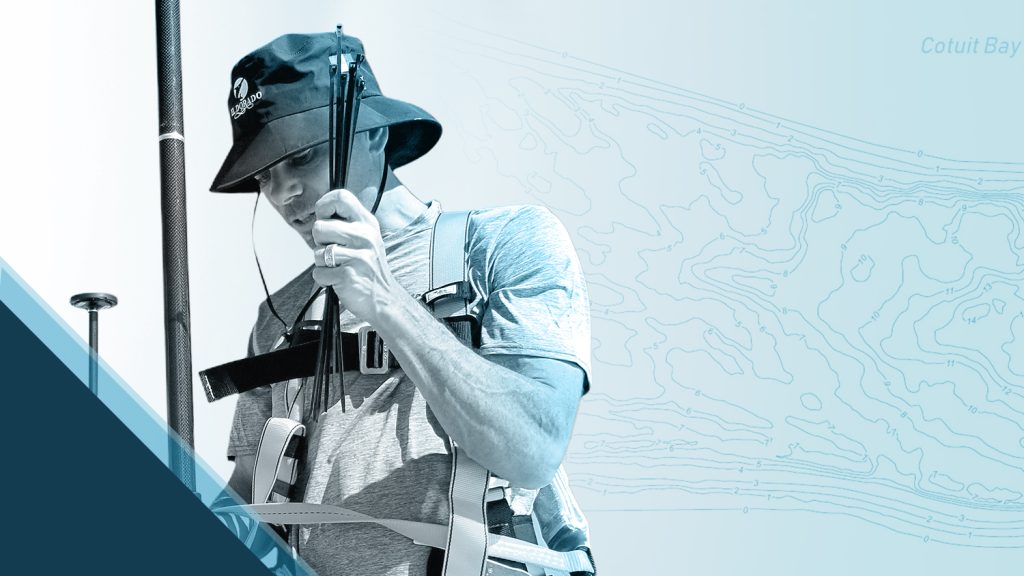 Customer Spotlight: Chris Kahn, with Eos from the beginning
Customer Spotlight: Chris Kahn was one of Eos' earliest customers and has found a sweet spot of efficient CAD, GIS, GNSS, and UAV field work.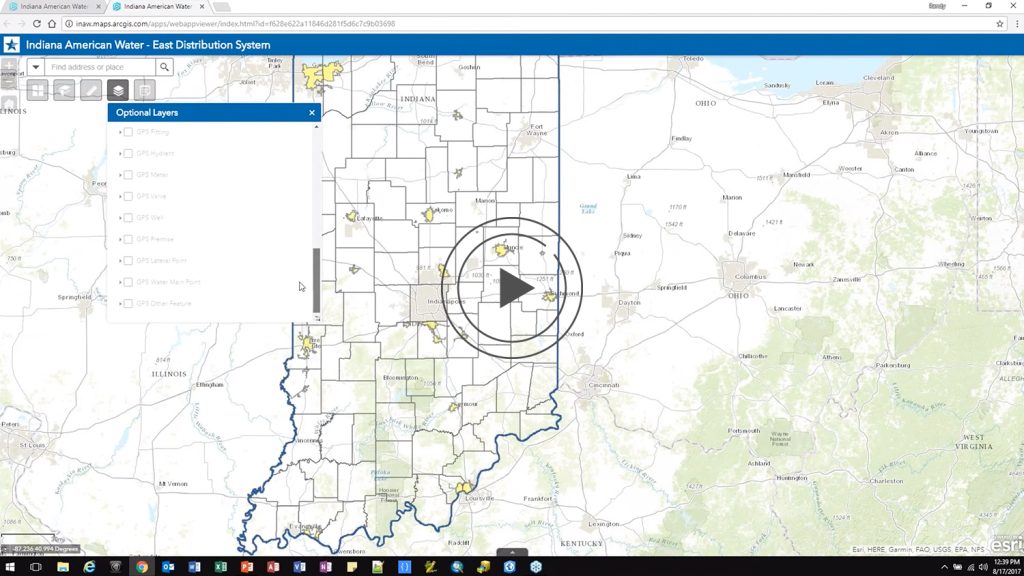 Indiana American Water Transforms its As-Built Timeline
Indiana American Water and Esri describe how they drastically reduced as-builting times and improved employee satisfaction with the Arrow 100 and Collector.