The value of geospatial technologies to the AEC (architecture, engineering and construction) industry is undeniable. In particular, combining imagery from drones (UAVs), accuracy from GNSS receivers, and spatial information viewing and sharing of mapping platforms such as Esri's ArcGIS — unlocks a trove of information.
Recently, a large residential and commercial development project in Texas brought together these technologies. Working together for a single client, two local geospatial services providers — Texian Geospatial & Asset Solutions (TexianGeo) and TXDronePics — created a geospatially advanced, highly accurate construction management system. The system enabled not only reliable and near-real-time construction site monitoring, but also the ability to verify construction as-builts from imagery, and share select information with critical internal and external stakeholders.
This is their story…
About the Project Requirements
About a year ago, TXDronePics approached TexianGeo to collaborate for a client requiring the intertwining of a variety of geospatial hardware and software.
The client, La Cima, is a 2,400-acre planned community located just off I-35 between San Antonio and Austin, Texas. The community is a subdivision of San Marcos, Texas, and it includes space for residents to live, socialize, and recreate. Since construction of the community first began in 2017, various publications have already rated this subdivision as one of the "Best Place to Retire," "One of the 10 Most Relaxed Small Cities in America," and other accolades by various publications.
The construction of La Cima had five essential requirements. All of these demanded geospatially reliable information, able to be viewed, shared, and analyzed in near real time:
Historical and New Aerial Imagery: Ability to view historic aerial imagery of the construction site, as well as new aerial imagery captured during weekly UAV flights and synthesized into monthly mosaics
CAD Data: Ability to view lot and phase CAD data
As-Built Data: Ability to view and incorporate consistently captured as-built data of new construction
Construction Validation Tools: Ability to measure, and thus validate progress of, new construction from features within the mosaic imagery — with extremely high accuracy
Sophisticated Information Sharing: Ability to make this data selectively available to various internal and external stakeholders (e.g., construction managers, contractors, inspectors, financial contacts)
How did TexianGeo and TXDronePics meet these needs?…
The Proof of Concept: Web Maps as a Better Way to View, Share, and Analyze Construction Data Over Time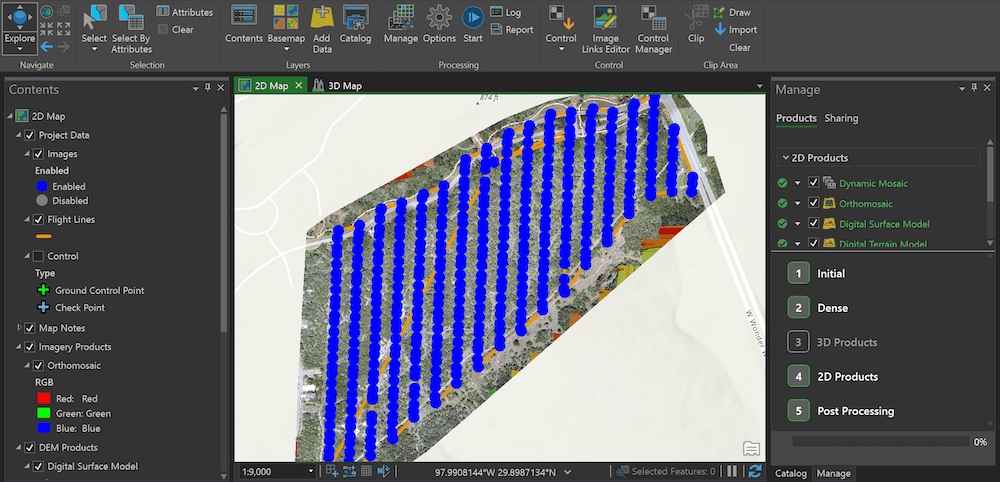 Since the start of the project in April 2017, TXDronePics has been capturing UAV imagery of the construction site. They capture UAV imagery on a weekly basis, placing an emphasis on areas where construction is or was actively occurring.  The last week of each month, TexianGeospatial collects and process the images for the entire area into mosaics, to give the client a high-resolution overall look at their site.
To ensure imagery's accuracy, they used an Eos Arrow Gold GNSS receiver to set ground control points (GCPs). When connected to an RTK base station, the Arrow Gold GCPs ensured a final accuracy of anywhere from 1-3 centimeters. This process produces highly accurate imagery within a few centimeters, for both the imagery and the new construction features captured within it.
In the early days of the project, these UAV imagery files were uploaded to a Dropbox® account, which was then shared to authorized personnel to download and view. Personnel could include internal stakeholders, such as project managers reviewing construction progress and monitoring challenge areas, as well as external stakeholders, such as financial and municipal contacts who were tasked with analyzing site progress and areas of interest (e.g., inspection points).
TexianGeo introduced the concept of web maps as an alternative to file-based information sharing.  As the months into the projects passed and as the number of imagery and mosaic files increased, the idea gained traction.  To demonstrate the concept, TexianGeo created a simple web map in Esri's ArcGIS Online which contained the construction site's CAD masterplan and other valuable layers (e.g., parcel data, soil type). Because of the extreme accuracy of the map, the stakeholders could take advantage of ArcGIS Online's analytical tools to perform computations such as stockpile volumes straight from the aerial imagery. This allowed them to estimate truckloads required to move the stockpiles, which in turn allowed them to validate invoices from hauling companies.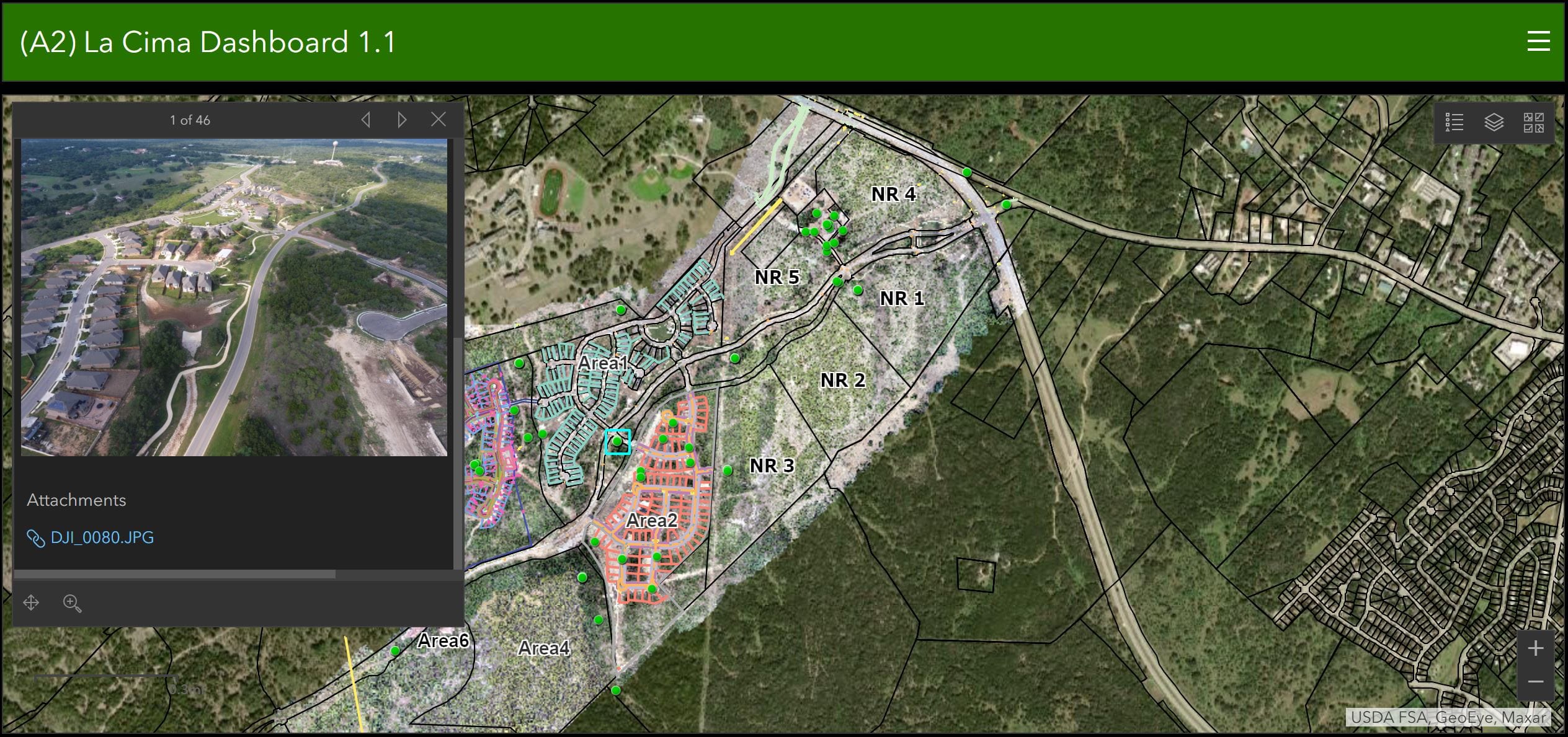 The project managers instantly saw the value of the web maps, and they authorized the purchase and setup of their own ArcGIS Online organizational Account to further build out the concept.
Step 2: Easy as One, Two, Three (Applications)
Appreciating the value of these web maps, Lacima inquired on other potential usage of these maps. To meet their request, TexianGeo built three separate, workflow-specific applications.
The first was the Construction Viewer. Created within the client's own ArcGIS Online organizational account, this viewer enabled Lacima to brand their maps, and selectively share information with external stakeholders. They even linked specific maps on their website for public consumption.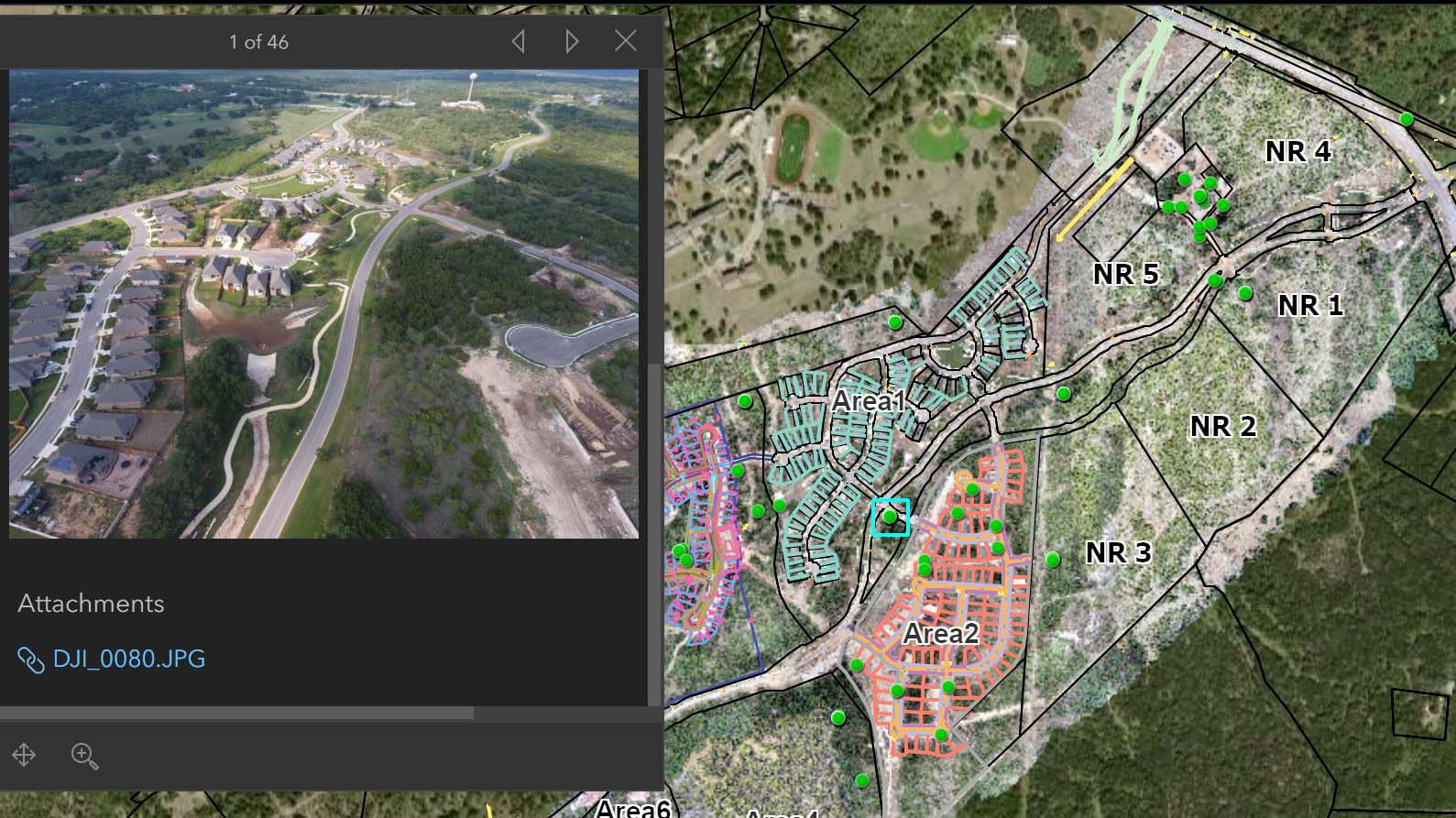 The second application was the Imagery Viewer. This tool displayed all the UAV mosaics and still images onto a single map. It gives the user full control over which imagery is displayed. TexianGeo worked closely with Esri staff to build a robust historic-point layer. This point layer lets the viewer click on any point, and see the full history of imagery taken of that point since the beginning of the project.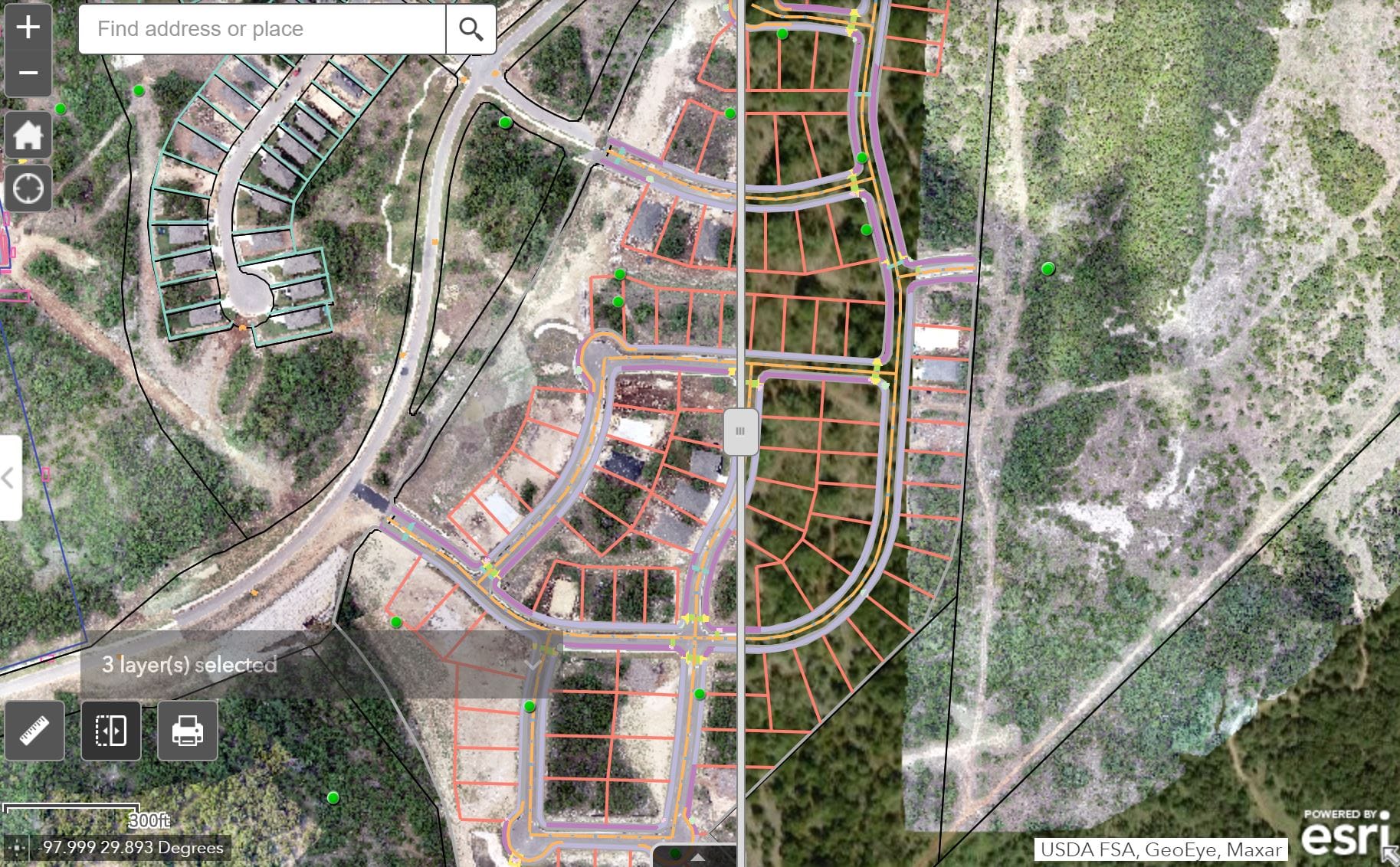 The third and final application is the Timeline Viewer. Created using ArcGIS StoryMaps, this tool presents a visual and written progress of the project over time. It combines aerial imagery, photographs, and descriptive text within a slider format, allowing the viewer to slide across a select area and compare its imagery over time, side-by-side.
Conclusion and Final Thoughts
Over the course of the project, Lacima credited the construction management maps with cost savings and greater efficiencies in monitoring the project's construction and operations phases. Still today, project stakeholders use the web maps to view a near-real-time bird's eye view of the construction site, they drill down to areas and points of interest, and they use the maps to offer insights to downstream stakeholders, such as utility and transportation organizations.
Eos would like to thank TexianGeo for their contributions to this article.
You May Also Like One of These Success Stories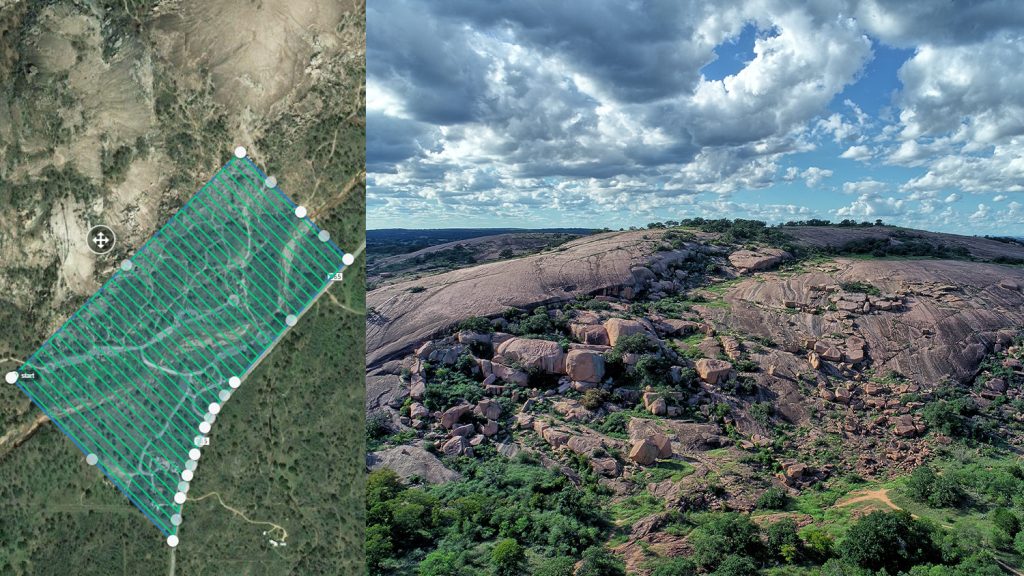 Texas Drone Consultancy Maps Enchanted Rock with UAVs and GNSS
A Texas consultancy provided 3D topo maps and digital elevation models to a park by using Arrow Gold for Ground Control Points, DJI drones & GPS Tracker.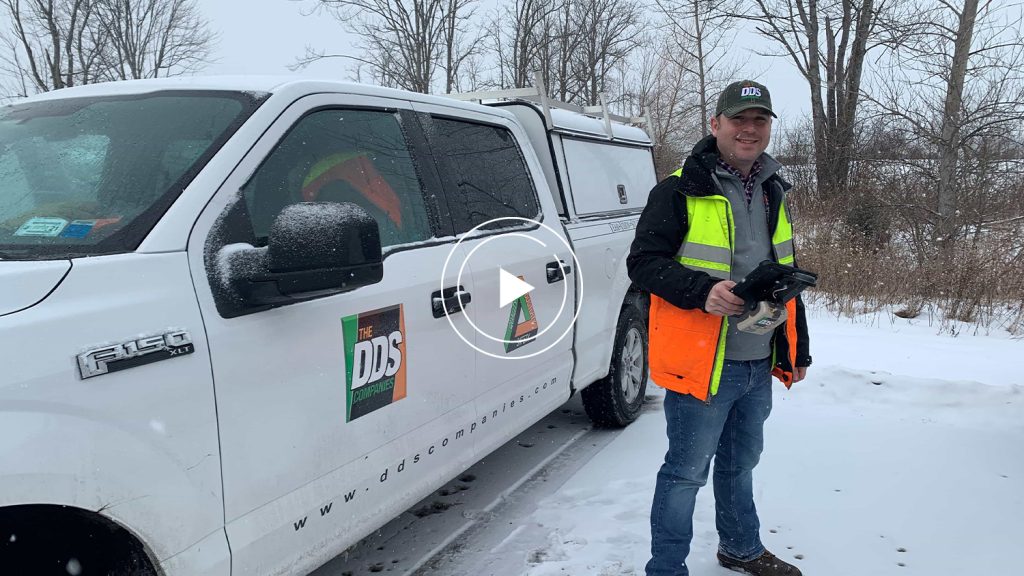 Real-Time GNSS Data Collection Drastically Reduces Labor at NY Consultancy
In this presentation, David Gigliotti of explains how high-accuracy data collection (Arrow Gold® GNSS, ArcGIS) to cut mobile labor costs.