Synopsis:
Australian Cultural Heritage Management (ACHM) takes on hundreds of heritage management projects each year throughout Australia that require quality GIS data. In this Ozri 2020 presentation, Dr. Shaun Canning, Managing Director of ACHM, shares how his organization uses Arrow GNSS / GIS alongside Esri mobile apps. Play Dr. Canning's video presentation above, or scroll down to read the transcript.
About Australian Cultural Heritage Management (ACHM)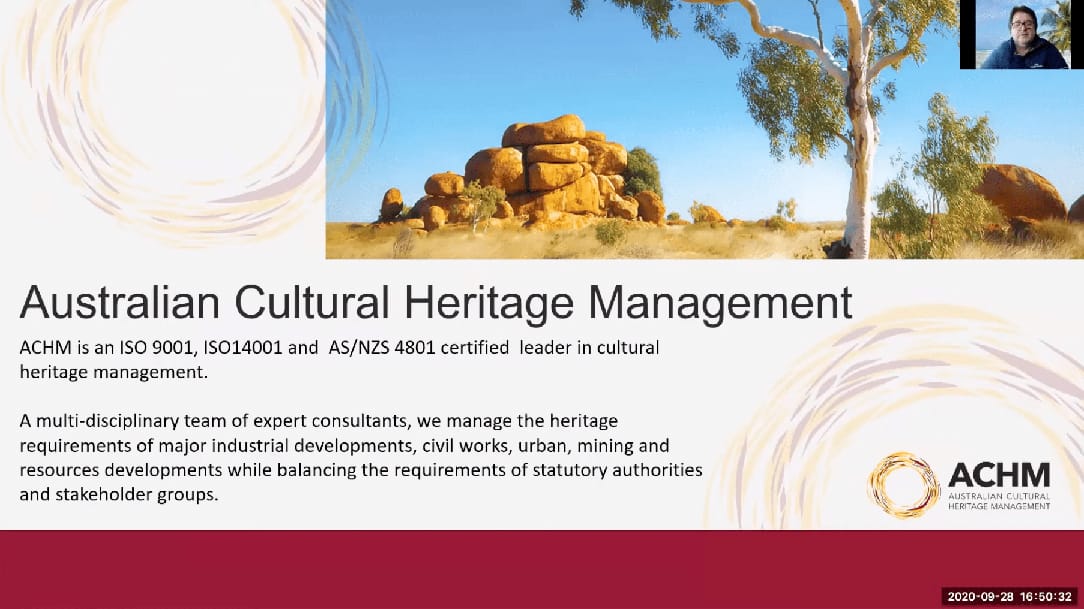 DR. SHAUN CANNING
G'day there. My name is Dr. Shaun Canning, I'm the managing director of Australian Cultural Heritage Management. I'm here today just to have a bit of a chat about our requirements for spatial data capture and the system that we've settled on recently.
I'm just going to share my screen — just a bit about us; we're a triple certified leader in cultural heritage management. We're a multidisciplinary team of consultants managing the heritage requirements of major industrial developments (civil works, urban, mining, and resources developments) while balancing the requirements of statutory authorities and stakeholder groups.
In our work, typically what we do is archaeological survey assessment or excavation, cultural heritage management plans, due diligence ethnographic and other heritage assessments, GIS spatial data capture and management, modeling and monitoring salvage excavations, stone tool ID and analysis, stakeholder engagement, and we provide strategic heritage advice to our clients.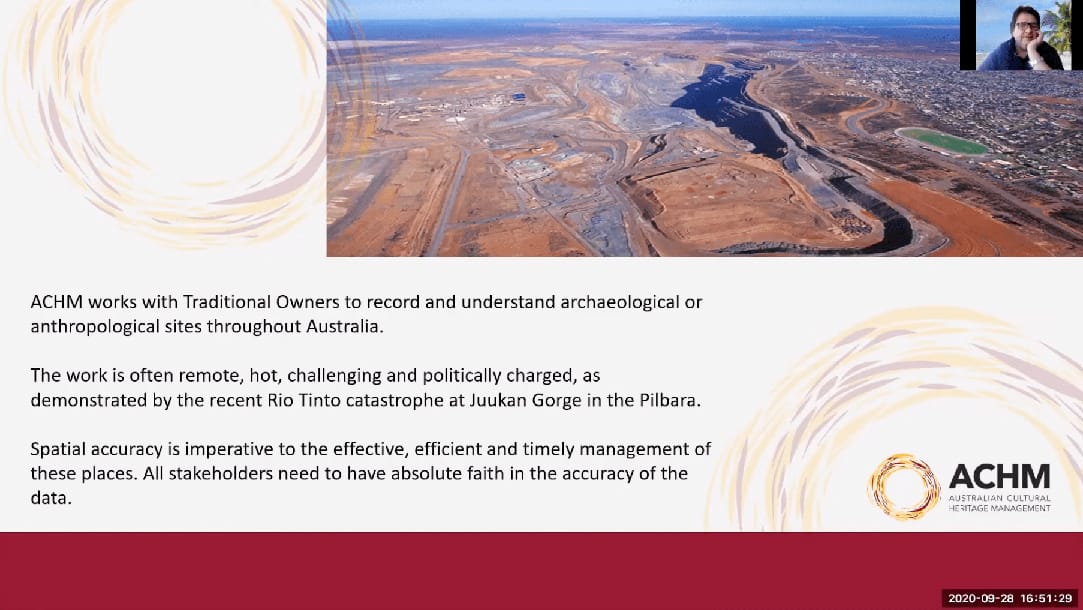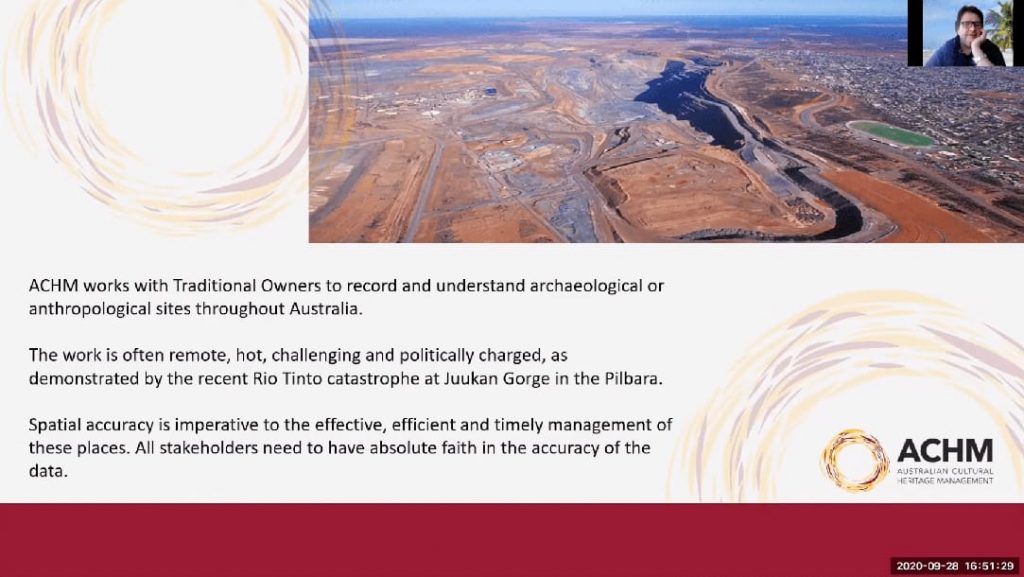 Typically, we work with traditional owners to record and understand archaeological or anthropological sites around Australia. The work is often in remote, hot and challenging conditions, and sometimes it's emotionally and politically charged, as demonstrated by the fairly recent Rio Tinto catastrophe at Juukan Gorge in the Pilbara. Because of that, spatial accuracy is imperative, particularly around the data capture stage. It's imperative to the effective, efficient and timely management of the places that we record, and all stakeholders need to have absolute faith in the data.
So, essentially in any given year we undertake approximately 200 projects around Australia. The cultural heritage management industry is very highly regulated in every state and local government jurisdiction in Australia. Stringent legislation and regulation exists at all levels of government, which can simultaneously affect any project. 
Limitations of legacy GPS workflows
What we've found over the years is that gradually, most project proponents and government departments have moved towards requiring submeter accuracy of any of the work we do as a default position. Previously, you know going back a few years, we had been using handheld GPS like Garmin 60s, which were fantastic for their ease of use and their robustness but obviously they were always compromised by a lack of accuracy, seldom giving us better than five or ten meters horizontal.
We then migrated our systems and processes to Trimble DGPS units, mainly Junos and GO XHs. Now, these were really reliable and tough, but they're also very expensive and relatively fiddly. And they did take quite a bit of training to get people proficient with their use getting data on and off them and then post process to submeter was also pretty time consuming, and it became a bit of a choke point in our workflow. We also had a situation where staff were capturing lots and lots of information on paper forms and also capturing photos that weren't linked in any way to any of the spatial objects we were capturing. So they were all remote from each other, and it was causing all sorts of problems. 
Upgrading to a mobile workflow with ArcGIS Online and ArcGIS Collector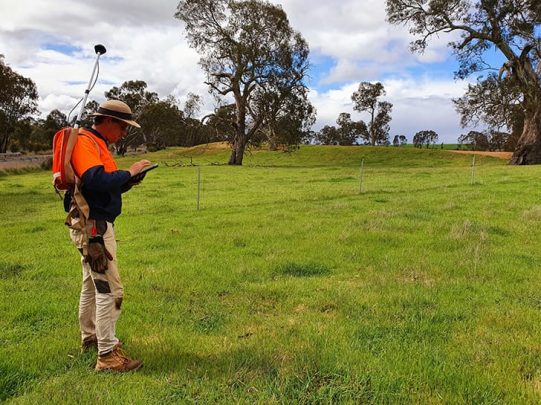 So, what we've got to fairly recently, thanks to some help from 4D Global and Esri, is we've migrated everything to the ArcGIS Online back end, and are using ArcGIS Collector as the front end for data capture in the field. We're doing that with Collector on iPad®s, phones, Windows devices, whatever device we need to do it with because it'll work on all of them.
For us the huge benefit has been that the data collected in Collector is quite attribute rich, but it also has photos connected to it, and each object can have as many photos as we want. And they're geo tagged and linked to that object, so we don't lose them or they don't lose their spatial connection. So, we always know where the photo was from. 
With the collection of the data on glass, now through our iPads or phones, there's almost no opportunity for data to get lost or even accidentally deleted. It's difficult to accidentally delete anything. Previously, we had thousands of pages of data collected on paper and it was obviously really, really difficult to manage. There was always a chance something was going to get lost.
With the collection of the data on glass, now through our iPads or phones, there's almost no opportunity for data to get lost or even accidentally deleted. It's difficult to accidentally delete anything. Previously, we had thousands of pages of data collected on paper and it was obviously really, really difficult to manage. There was always a chance something was going to get lost. Equally important to us is that the Collector system allows our staff to use it offline when there's no connectivity. We're quite often in remote areas where there's no phone coverage, no Wi-Fi, so being able to capture things offline is a tremendous bonus. And then we can just sync it up once we get back into the office or back into phone coverage. That was all great with the iPads, but the inbuilt GPS is pretty crap as I'm sure everyone knows, so we then had to look for a solution to provide us with the submitted DGPS that we needed. 
The Solution: Modern, User-Friendly GNSS and Mapping Equipment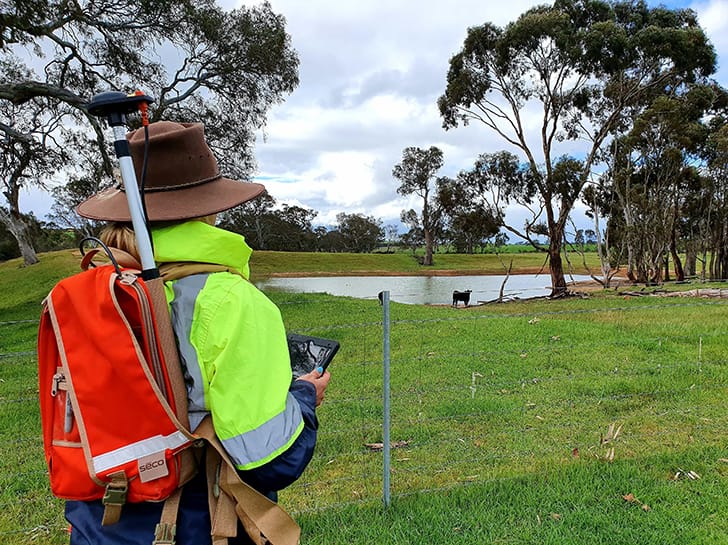 Peter at 4D Global suggested we try Arrow 100® units, which we did. We trialed those and found them to be really, really, really easy to use. It's absolutely simple to Bluetooth to an iPad or an iPhone®, or any other device. Very simple for our staff to use. There's virtually no training required, they hook up straight away. The ArcGIS Collector app picks up the GPS feed from the Arrow without any fuss whatsoever.
So pretty much day one, within the first half an hour, we were able to collect data with 40-50, maybe 60 centimeter accuracy. The longer it runs, the better it gets. They hover around, you know, 40-50 centimeters all day. 
The critical thing for us has been the ease of use of the training for our staff. There's just hardly any training over here at all — it's a really simple system to use. Being so simple and efficient makes it really reliable for what we're doing and more importantly, it's really accurate, so that gives us that quality of data and the faith and trust that we have in it is really important.
The results: Delivering quality data to clients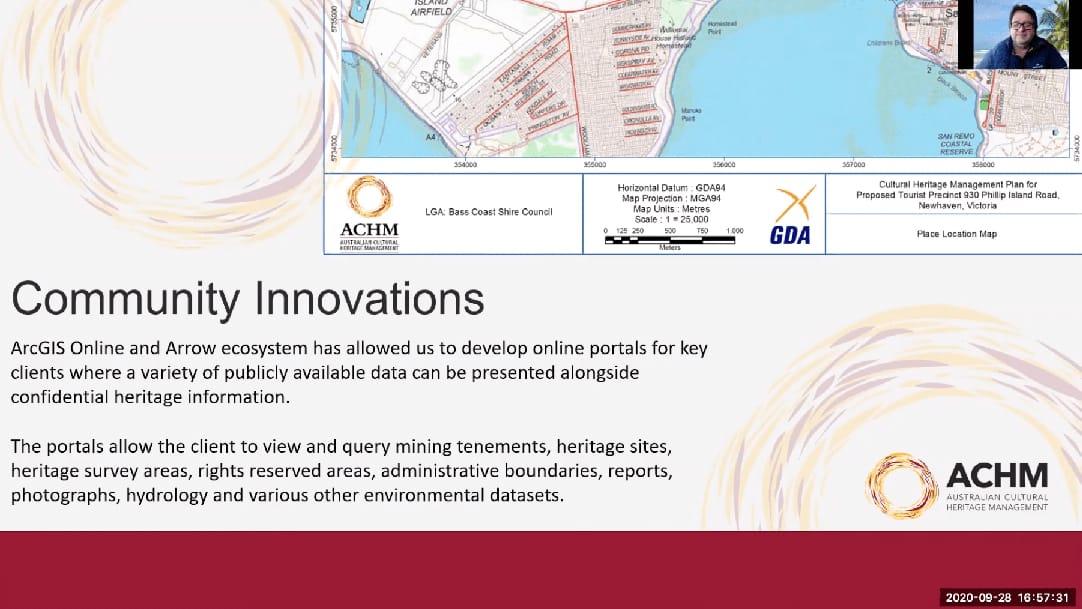 Also, using the ArcGIS Online and Arrow ecosystem has allowed us to develop some online portals for our key clients, where we can present a whole different range of data sources to them. Portals are allowing our clients to view and query mining tenements. They can look at the heritage data that we've collected, we can look at rights reserved areas, admin boundaries, previous reports, previous photographs, hydrology and a whole range of other environmental data sets, and they can query that themselves. And we can talk to them about the data and how that is interacting with projects that they might be involved in.
Anyway, that's the end of my PowerPoint presentation. Thanks very much. I'm just really happy to recommend both the ArcGIS Online ecosystem and using Collector for our requirements. It has been fantastic. And the Arrow 100® receivers are just tremendous — we're really pleased with them. Anyway, thanks very much.
You May Also Like One of These Success Stories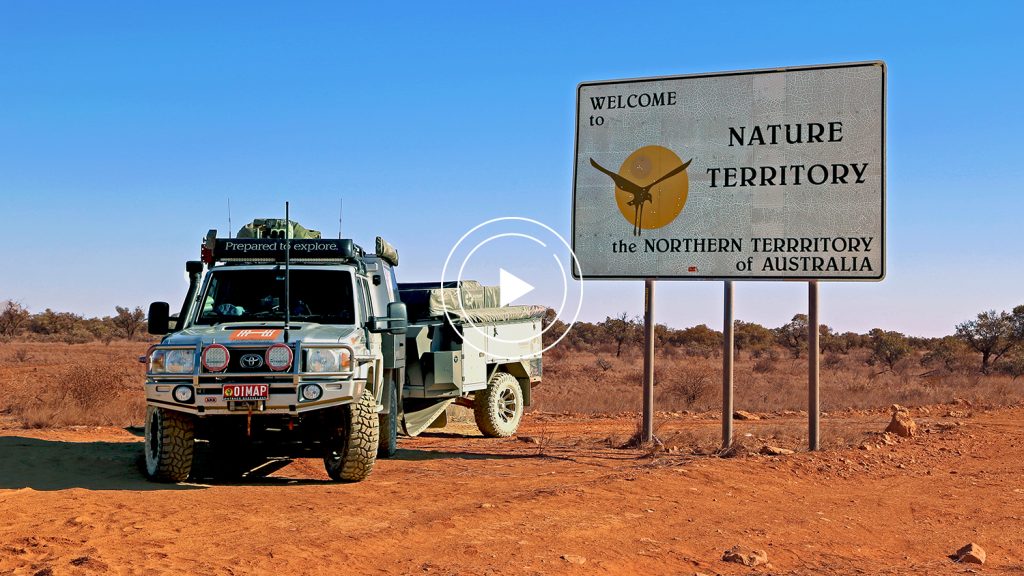 Hema Maps Maps Australia with SBAS Testbed
In this Esri Australia Webinar, discover the field data collection workflow Hema Maps uses to create digital and print maps with Arrow 100 and the Australia SBAS.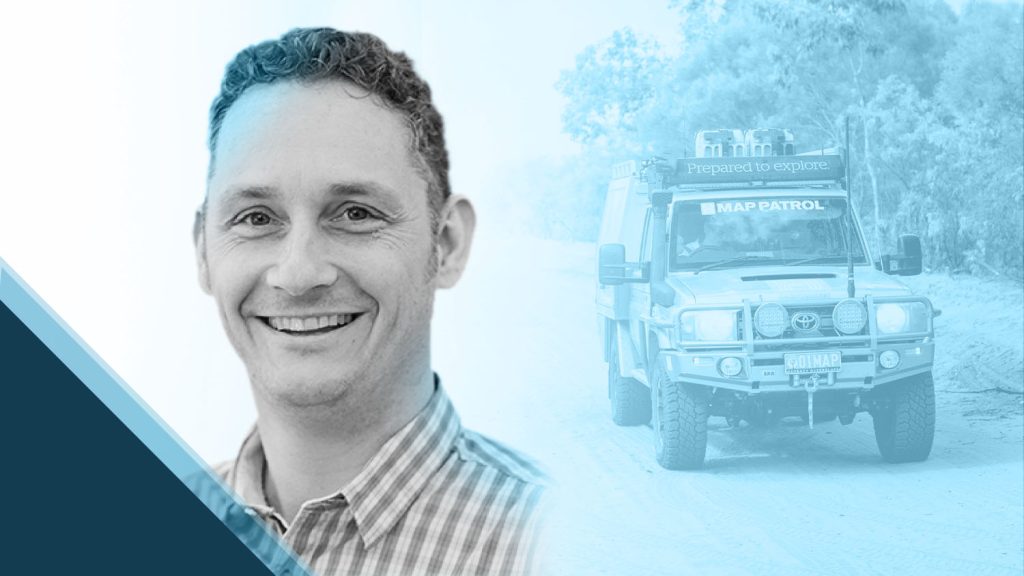 Customer Spotlight: High accuracy adventure with Pierre Kurth
Customer Spotlight: Pierre Kurth! Eos is honored to have a customer passionate enough to travel with us to three events to share his use of geospatial tech!