This is Step 1 of 3
The initial setup for your Arrow Series® GNSS receiver will take you through 3 main steps:
Inventory & Power Up
Bluetooth® Pairing & App Setup
Mounting & Antenna Setup
This page will walk us through the steps of item 1 above – Inventory & Power Up. The steps we will cover are:
Inventory Necessary Items
Power Up the Arrow Unit
A. Inventory Necessary Items
This requires the following components:
Arrow Series® receiver
Antenna
Antenna connection cable (2 sections)
Device mount
Your device (iOS, Android, or Windows)
GNSS connection software (Eos Tools Pro for iOS/Android, drivers for Windows)
B. Power Up the Arrow Unit
The attached battery pack ships already charged. The Arrow power button is located in the upper right, on the face of the device (side with the archer illustration).
This guide is focused on the minimum requirements to get your Arrow unit up and running. For a more optimal understanding of your Arrow, we encourage you to familiarize yourself with your Arrow GNSS receiver's connections, indicator lights, and battery pack. Additionally, we also encourage you to review the complete Arrow User Manual.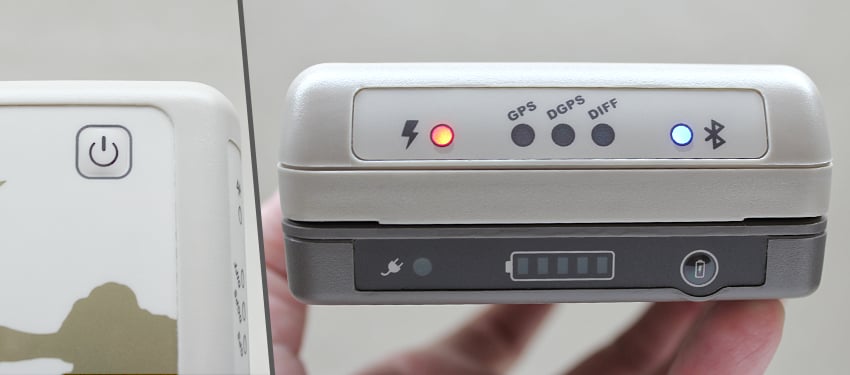 Give the power button a deep press to activate it – the button surface is raised, but the mechanism is deeper inside. (This helps prevent accidental activation in storage or transit)
After activation, the lights will flash on. The red power light will remain lit, and the blue Bluetooth® light will flash, indicating it's ready to pair.
NEXT: Bluetooth® Pairing
Choose what you are pairing with:
Having trouble? Contact Technical Support >