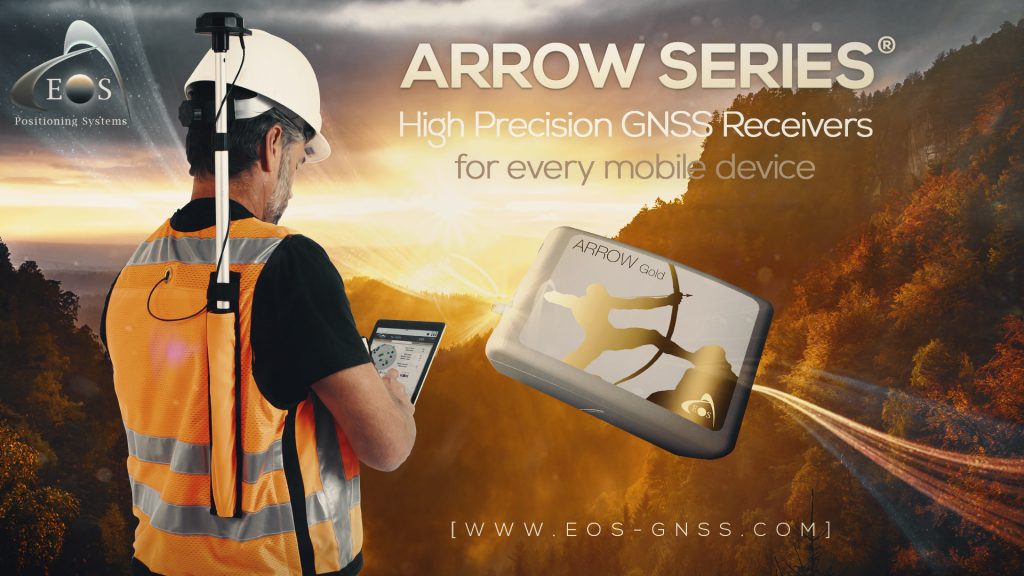 Getting centimeter accuracy on iPad is possible with GNSS! Here's How
More and more people want to use iPads and iPhones for high-accuracy GIS/GNSS data collection. At first, detractors said those devices wouldn't survive in the field. They've been proven wrong. Put them in an inexpensive Otterbox or LifeProof case and they become robust GIS/GNSS data collection devices that are giving traditional, expensive rugged Windows-based tablets a serious challenge.
The practice of connecting, via Bluetooth, an RTK GNSS receiver to a Windows tablet has been around for years. It's not difficult. The Bluetooth manager on the Windows tablet assigns a COM (communications) port (eg. COM8) to the Bluetooth RTK GNSS receiver. Then, the user just needs to setup the data collection software (eg. ArcPad et al.) to look at that COM port to stream the GNSS data into the app.
iOS (and Android) Doesn't Work That Way
Designing an RTK GNSS receiver to interface, via Bluetooth, to an iOS device is a complicated task. First, the GNSS receiver must have an Apple authentication chip designed inside its electronics. Second, the RTK GNSS receiver must be designed to follow Apple's rigid Bluetooth communication protocol. Finally, the RTK GNSS receiver and all associated iOS software apps must be approved by Apple. This complex, time-consuming and sometimes frustrating process is the reason there are very few iOS-compatible high-accuracy GNSS receivers available in the market.
In 2011, Eos technical team designed the first high-accuracy GNSS receiver for iOS in the world with an initial brand of GNSS receiver. Then, they designed the next-generation Arrow Series GNSS receivers with 100% iOS (and cross-platform) compatibility in mind.
"iOS hardware compatibility is only part of the challenge", said Jean-Yves Lauture, Chief Technology Officer at Eos Positioning Systems. "All of the supporting firmware and iOS apps must be bullet-proof and run on all iOS devices that have various screen sizes. Our customers demand that our Arrow GNSS receivers work flawlessly with all iOS devices."
Centimeter Accuracy on Your iPad and iPhone
To achieve Centimeter Accuracy on your iPad or iPhone, you need the right type of GNSS receiver. Eos offers the Arrow Gold RTK GNSS receiver. It's a full RTK, dual frequency, all constellation (GPS, GLONASS, Galileo, BeiDou) receiver capable of processing GNSS RTK corrections in real-time and delivering centimeter-accurate coordinates to your iPad/iPhone. You'll also need access to an RTK base station or RTK Network. This is not as difficult as it sounds. Many regions around the world have RTK Networks. In the US, many States offer free access to their RTK Network. All the user needs is an internet connection either directly on their iOS device or from a cell phone hotspot.
Eos provides a free iOS app called Eos Tools Pro. It runs on iPads and iPhones. This app features a built-in NTrip client and enables the user to access an RTK Network by entering IP address, port#, username and password. It also allows the user to set alarms to notify if RTK Network connection is lost, estimated accuracy or correction age limit exceeded, etc.
Once the iPad/iPhone is connected to the RTK Network (via internet), it streams RTK corrections to the Arrow Gold RTK receiver via Bluetooth. The Arrow Gold applies the RTK base data and then sends a centimeter-accurate coordinate back to the iPad/iPhone via Bluetooth.
Once the iPad/iPhone is receiving the centimeter coordinate from the Arrow Gold, all apps on the iOS device will be using the centimeter coordinate via Core Location including Apple Maps and other location-based services. Some GIS data collection apps like Esri's ArcGIS Collector 10.4 for iOS, iCMTGIS Pro, TerraGo Edge and AmigoCloud go a step further and collect GNSS metadata directly from the Arrow Gold. This is valuable data to collect when creating maps of important assets. GNSS metadata are data such as horizontal/vertical estimated accuracies, PDOP, correction age and many other data types.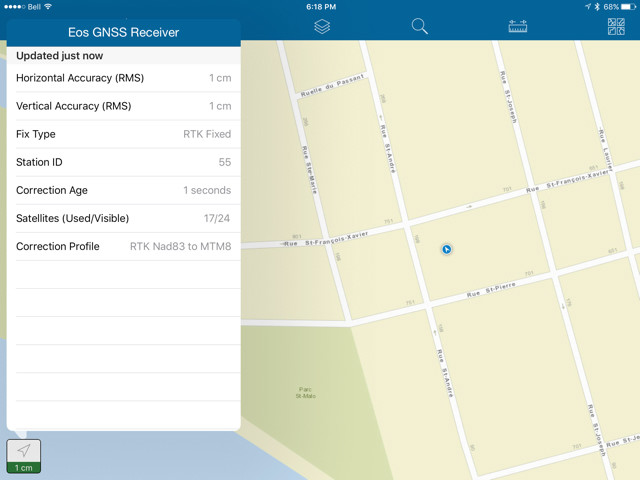 Achieving centimeter-accurate coordinates on your iPad/iPhone is easier than it's ever been.
Be on the lookout for our announcement in the coming weeks of our new Arrow Gold product. It will introduce our SafeRTK feature for RTK everywhere, even in locations with spotty cell coverage.